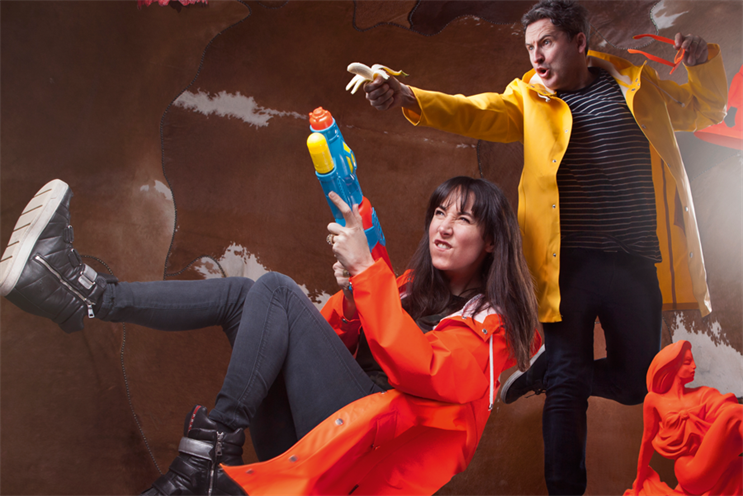 When I was asked to write this article, I thought: "How can my contribution have the most impact on the world?" Sounds lofty. But, truthfully, I believe our whole outlook as marketers needs to fundamentally change. And change fast.
As an industry, we've been obsessed about what people believe about brands. Actually, what people believe about themselves matters more.
Our motivation shouldn't be limited to commercial success but also by a measurable, positive, societal impact. How are we using our gift of creative, strategic thinking?
Today's 18- to 35-year-olds are born activists. They are liberal and open and they really value socially conscious brands. We are living in an age of protest, when people take to the streets and social channels to protest against governments and brands.
People are morally aroused; they make brand choices that are guided by aligned ethical, morally upright values. And, very importantly, today's younger generation really understand their value, their potential impact and their ability to make or break a brand.
Doubtless, in years to come, we'll look back on today's younger generation as the "enlightened generation". Let's not let them down.
This understanding has helped us, as an agency, totally reappraise our role as citizens.
Measure more than profit
Quarterly reports offer limited scope in tracking progress and are worryingly short-term in outlook. We need to evaluate other parts of the value spectrum – sustainability, community contribution and well-being of employees, and not just as tick boxes. As business and brand owners, with our structures, company visions, major decisions and daily efforts, are we measuring what really matters?
Let's reappraise our existence – and that of our clients
We need to invest billions of marketing dollars in a way that shifts not just the value of the brands we represent but their entire reason for being. Not only does a concentration on a higher societal purpose contribute positively towards employee satisfaction and retention, but it is a critical factor for the talent of the future when they choose a career.
So, as an industry, to future-proof ourselves, we've just got to get behind it, live it and mean it. Frankly, the future of our world, life and business depends on it.
We need to do it more, faster and better
We need to start a new dialogue about how we define and target our audience. Regardless of how we reference them – consumers, brand fans, ABC1s, whatever – they're all humans. They're all citizens of the one universe.
When we think of ourselves as citizens, we're more likely to participate, volunteer and come together to engage with or evolve the status quo. Thinking and acting as citizens enables us to live in a way that can be sustained across resources, business, processes and as humans.
So here's a call-out. Let's explore how we – the world's leading independent agencies – and the brands we work with can make real change by shifting to a greater responsibility (without losing the fun factor; we are human, after all!).
Fundamentally, this is less about the traditional brand/agency/consumer dynamic and more about the full spectrum of human relationships among businesses, communities, media, suppliers, customers and brand fans.
Starting by changing the c-word
In every brief, proposal, strategy and meeting – with clients and our own teams – swap "consumer" or "customer" for "citizen", and let's see what happens.
We know we can't do this alone; none of us can. If it gets difficult, don't give up. Tell us about it at #mission2016 #swapcword.
We marketers are often not comfortable with the marketing world we've inherited. So now it's time to change that world. It's time to reassess our role as citizens. Let's start now.
At a glance
Founded 2001
Principals Jane McDaid, founder; David Coyle, commercial director
Staff 43
Locations Dublin, London
Declaration of independence
What independence gives us Credibility, authenticity, freedom.
The most important thing I have learned in the past year Listen and learn as much as possible – from youth audiences everywhere, our brand
fans, our valued clients and each other. And respond, in our own bold way, to those insights and wisdom.
The most cutting-edge tech we're using As a specialist youth agency, we experiment with everything – from taking Snapchat campaigns beyond the expected with Snapchat Fiction to 360-degree Facebook video. Inspired by creative and internet culture, we explore new design, filming, illustration and photography tricks every single day. This helps us deliver killer content for our clients' brands.