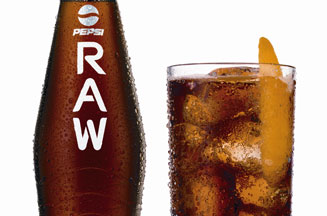 Pepsi's decision to pilot its Flavours syrup shots in the on-trade provides further evidence of the way in which the company is using this sector as a key component in its innovation efforts.
A spokeswoman for Pepsi says that the company has no plans as yet to launch the flavoured shots into the off-trade, but the company has a track record of using licensed premises as a trial environment for retail product launches. Last year, as well as launching its draught Extra Cold variant into the on-trade, it used the arena to roll out Pepsi Raw, a premium cola made from naturally sourced ingredients, before launching it into the off-trade.
Both efforts have ensured that Pepsi has maintained its share of cola value sales in the on-trade, which declined by 4% last year, according to Nielsen. Figures for the year to November 2008 show that Coca-Cola value sales fell 6% to £451m while Pepsi stood at £431m.
David Goudge, managing director at innovation firm Brand Development, believes that Pepsi's on-trade strategy illustrates its efforts to create a buzz around the cola market. 'Pub and bar environments are similar and, generally, the choices for consumers are limited,' he says. 'Pepsi is tapping into the consumer desire to personalise this - create a bit of theatre, and without too much hassle.'
Goudge cites examples from other categories, such as the way in which Heinz launched different coloured variants of its Ketchup, as strategically effective. 'It wasn't a huge commercial success for Heinz, but it kept the brand fresh through creating a buzz, and this is what Pepsi is replicating,' he adds.
Pepsi's focus on the on-trade in the UK stems from its affiliation with franchise-holder Britvic, a brand that historically has had strong ties with pubs and bars.
Moreover, Goudge describes Pepsi's Flavours trial as one that epitomises the company's fundamental difference from Coca-Cola. 'Pepsi is being brave because it is messing around with consumer perceptions of the brand,' he says. 'It is still behind Coca-Cola, so it still acts like a challenger brand and is more willing to play around a bit more, and have a bit more fun.'
For Coca-Cola, the on-trade is of less importance to its NPD strategy. However, Jon Woods, business development director at Coca-Cola Great Britain & Ireland, says that it uses a similar technique for its Schweppes brand.
'In the summer, we launched a marketing campaign for Schweppes Russchian, exclusively in licensed outlets. This "in-bar" experience drove trial and awareness of the product among more than 45,000 consumers, and was a fresh way to grab their attention in the most relevant environment,' he adds.
Woods believes that using the on-trade to drive awareness not only boosts sales at the point of consumption, but also translates into grocery purchasing.
Coca-Cola takes advantage of as many channels as possible to develop and promote other drinks in its port-folio. Following the success of energy drink Relentless Origin in the off-trade, the company decided to expand the range. In February it launched two Relentless variants exclusively in the on-trade, in 250ml glass bottles, while the Relentless Energy Shot made its debut in stores in the summer.
'Our ambition is to give consumers the perfect product experience in the right environment,' says Woods. 'We have a broad portfolio that meets a number of consumer needs and we carefully assess the appropriate channel, outlet and customer to deliver this experience. In today's dynamic market a one-size-fits all approach does not work. Having a segmented approach is key to a successful product launch.'
Pepsi Flavours has only a slim chance of moving into the off-trade in its present format, and is probably more likely to evolve into limited-edition Flavours variants of the core retail products. However, Pepsi's efforts in NPD confirm its status as a challenger brand to Coca-Cola - a position that frees it up to take a more experimental approach than its dominant rival.