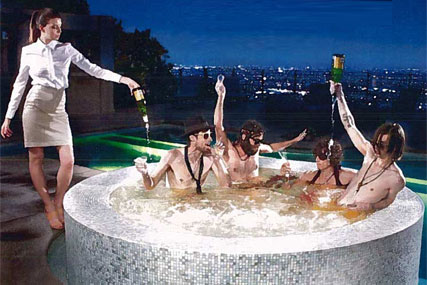 The poster showed the band featured in the campaign drinking champagne in a Jacuzzi, as well as displaying a number of empty bottles and classes.
One of the rock stars and a female staff member were pouring champagne into the Jacuzzi.
The text stated: "Rockstar Service. Book a stunning Hip Hotel in one of the world's most incredible destinations and Virgin Holidays' unique Travel Guru service will ensure your every desire is met."
The ASA disapproved of the ad, saying it "indicated a casual attitude to the handling and consumption of alcohol" and was likely to appeal people under 18.
Virgin Holidays said a Jacuzzi filled with champagne was an example of the most outlandish and decandent requests that someone might make of the service, exaggerated to show the level of service provided.
The ASA ruled the ad must not appear again and advised Virgin to take more care when they featured the use of alcohol in future ads.