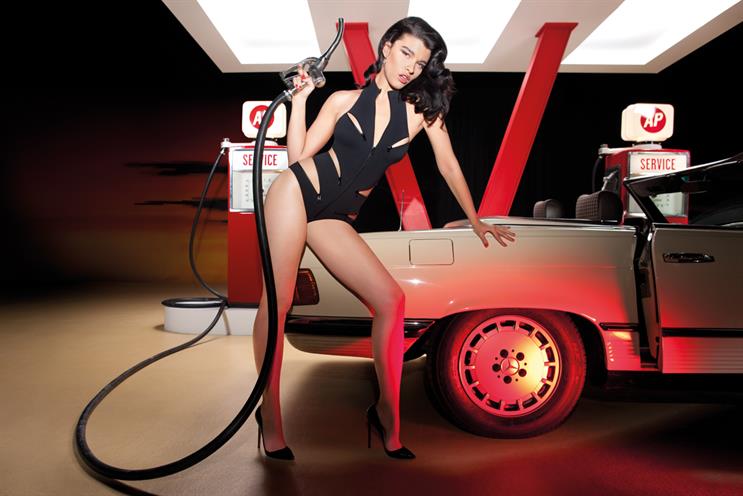 Since its launch in 1994, Agent Provocateur has never struggled to attract column inches. Its boundary-pushing ad campaigns and legendary Broadwick Street window displays are catnip for fashion editors; it has positioned itself perfectly at the place where the demimonde intersects with the high street, and "sexy" propositions "kinky" for a saucy two-step.
However, if you are looking for an example of how the company has managed to set itself apart from its rivals in the evermore congested byways of the lingerie bazaar, cast your eye over the pair of bright orange knickers that the label promoted for Valentine's Day in 2008. Bearing the legend "Free trial – my a***", they were sold to raise awareness of the plight of prisoners at Guantanamo Bay, with half of the profits going to human-rights group Reprieve. The then prime minister, Gordon Brown, received a free pair in the post.
It was the kind of textbook stunt (equal parts anti-capitalist gesture politics and shrewd commercial savvy) that must have earned Agent Provocateur co-founder Joe Corré an approving pat on the back from parents Vivienne Westwood and Malcolm McLaren.
Certainly, it would be a surprise if the idea did more than wash its face commercially, but you can't see Victoria's Secret touching it, and that's the point. Agent Provocateur has always dared to be different – and has never ceased reminding us of the fact, no matter how close it has come to the mainstream. Even when pushing a range of lingerie – Salon Rose – through Marks & Spencer, selling up to private-equity firm 3i for £60m and being namechecked in an Adrian Mole novel, the brand manages to convince us that it is playing by its own rules and defying the norm.
Arguably, Agent Provocateur has earned the right to proclaim its difference. It has always promoted itself as an upmarket fashion label, and although it does a roaring trade among men at Christmas and on Valentine's Day, it has consistently aimed itself at women, claiming that they account for 70% of sales. A recent survey of its workforce revealed that of 300 employees, only three were male (its current creative director, Sarah Shotton, joined the company as an office junior).
Credit here to the other co-founder, Serena Rees, who was married to Corré before leaving him for her best friend's husband. In keeping with the company's exotic credentials, he just happened to be Paul Simonon, former bassist in The Clash.
Like all success stories, Agent Provocateur has had some good fortune along the way, which has lent it cultural capital. Zoe Ball being spotted leaving the shop prior to tying the knot with Norman Cook proved a milestone in ladette culture, while David Beckham's similar papping with an armful of merchandise introduced the brand to an entirely new demographic.
As rivals seek to emulate its success, the difference between Agent Provocateur and its competitors can sometimes seem as flimsy as a £95 thong, but it has transformed the way British consumers buy their lingerie, and the residual goodwill this has created ensures its place at the top table of UK retail.
Both co-founders of the label were awarded MBEs in 2007. Serena Rees accepted hers, but Joe Corré turned his down, taking the opportunity to call then prime minister Tony Blair "morally corrupt" and signing off his letter to him with the words "Knickers forever".


Did you know?
One of Corré's inspirations for founding Agent Provocateur was his discovery in another lingerie retailer of lager-flavoured nipple gel. "I thought, my God, is that the state of the nation?" he later commented.
Kylie Minogue's 2001 appearance in the brand's lingerie astride a mechanical bull was voted the best viral ad of the decade in a poll compiled by online content distributor Go Viral. By 2010, the cinema ad had received more than 350m hits on YouTube.
Agent Provocateur protested against the Iraq War through its Soho window display, which featured scantily clad mannequins bearing placards with the words "Weapons of mass distraction".
Working with Penelope Cruz and her younger sister, Monica, Agent Provocateur plans to launch its first "diffusion" line in August. Aimed at a younger audience, it is hoped that
By 2015, the range will account for 50% of the company's annual turnover (which is currently £40m).
Sector round-up
Myla
Founded in 2001 by former City high-flyers Charlotte Semler and Nina Hampson, Myla's aim was to bring luxury and style to the lingerie sector. In its first year, Myla featured in Vogue every month and has scarcely looked back since. Kim Cattrall wearing a Myla lace and freshwater pearl G-string in the Sex and the City movie didn't noticeably hurt its image.

Calvin Klein for Men
There have been few more powerful advertising campaigns in the past 25 years than Calvin Klein's inspired choice of pairing Mark Wahlberg with Kate Moss in front of the lens of Herb Ritts. Moss claimed that the shoot led her to have a nervous breakdown, but the black-and-white session was nothing but good news for CK, which found a perfect monochrome match for its stripped-down look.




Marks & Spencer
Being criticised as boring while remaining the nation's first port of call for underwear might seem a high-class problem, but M&S has for some time realised that it's not enough to provide the dull but dependable. Hence its 21st-century overhaul, fusing the practical with the more exotic, and the hiring of quintessentially English models Twiggy and Rosie Huntington-Whiteley.

Victoria's Secret
The US lingerie juggernaut, founded in 1977, has achieved a commanding worldwide presence (and turnover of $6.2bn) as much by the strong association with, and promotion of, its models as by the product itself. "Angels" such as Helena Christensen and Tyra Banks, and the annual fashion show that began in 1995, have helped shape a brand that has transformed patterns of lingerie buying in the US.

Rigby & Peller
Rigby & Peller was awarded a Royal Warrant in 1960 and has been defined by, and traded on, its connections to the House of Windsor ever since. This, despite Belgian company Van de Velde being the majority shareholder since 2011. The regal connection determines its restrained design aesthetic, while endorsement by pop royalty such as Lady Gaga has helped in recent tough economic times.