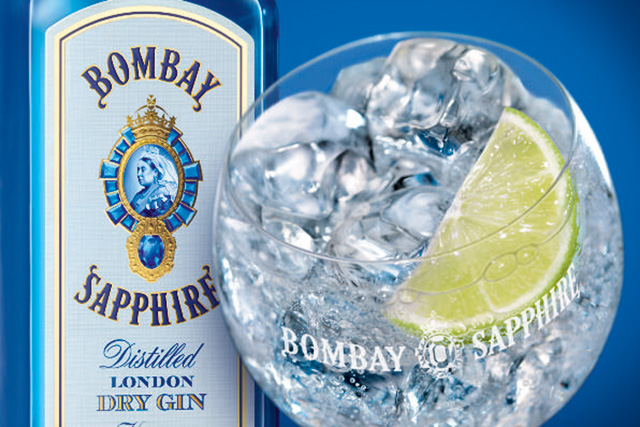 Michel Roux of Carillon Importers developed Bombay Sapphire from Bombay Dry Gin in the 80s. The drink was based on a recipe from 1761, created by the English distiller Thomas Dakin; the product is still made using a Carterhead Still purchased by the Dakin family in 1831.
This recipe provided a sophisticated taste that was intended to entice 'a whole new generation to explore the delights of gin'. Bombay Sapphire was the first premium gin to show­case the array of exotic ingredients that it used in its product.
The gin is made using 10 botanicals, with such flavours as juniper berry, citrus, angelica and orris root; these are said to make a beautifully aromatic gin.
Bombay Sapphire is a London dry gin, but made by a different method from other drinks in its category.
The difference is comparable to that between boiling veg­etables and steaming them, with Bombay Sapphire using the latter, more delicate, app­roach.
The aim is to extract more of the flavours from the bot­anicals during distillation, aiming to give it a more 'volatile, delicate, floral' flavour.
Bombay Sapphire is particul­arly popular as a cocktail ingredient. Back in the 90s, acclaimed bartender and mixologist Dick Bradsell created an array of gin-based drinks, including the Bombay Sapphire Bramble, which helped to break perceptions that gin was a boring, old-fashioned drink.
The brand's signature bottle is made of a striking blue glass, which, when the bottle is illuminated in the appropriate manner, can give the impres­sion that the liquid within is glowing.
The name of the product, and the subsequent choice of colour for the glass bottle was inspired by the 182-carat gemstone Star of Bombay, which was discovered in Sri Lanka and given to Mary Pickford, the silent movie star, by her then-husband, Douglas Fairbanks.
The brand has also produced a balloon glass (pictured below left) that is intended to provide an extra dimension to the more traditional gin-and-tonic drinking experi­ence. The theory is that the glass will trap the drink's aromas for longer. Given that 95%
of one's sense of flavour comes from what one can smell, the glass, it is claimed, will offer 'a more intense, fuller-flavoured experi­ence, while the stemmed design keeps the liquid cooler for longer'.
Bombay Sapphire is enjoyed in more than 120 countries and regarded as a high-quality, but not prohibitively expensive, gin. With a retail price of about £20 a bottle, it remains one of distributor Bacardi's best­selling lines.
---
BRAND LESSON
By Andy Knowles, chairman, JKR
In business, as in the polishing of gemstones, brilliance follows the application of sure intent.
By his determined pursuit of premium margins, Michel Roux's creation of Bombay Sapphire in 1987 not only triumphed over many longer-established rivals, it also fuelled the renaissance of an entire category.
In theory, Sapphire had little going for it – a line extension of a number-three, mass-market gin, an imperialist throwback, a bejewelled antique in an era of über-trendy, modernist vodkas.
Let theory be damned. In design, execution eats strategy for breakfast.
By counterbalancing ornate excess with a cool, sapphire-blue bottle, Roux cleverly married old and new to craft a wonderfully alluring whole.
Albeit a slightly crude, blingy incarnation that has long since been refined into an elegant harmony of form and decoration, Sapphire is one
of those wonderful, groundbreaking designs that can genuinely be described as game-changing. A design that can even warrant the overused, and often under-deserved, word iconic.
For marketers looking for lessons from Champions of Design, Sapphire should not only be held high as inspira­tion to themselves and creative part­ners, it should also be pinned to the office walls of finance colleagues.
It is a reminder that value-creation
by cost-cutting will never match the $300m (30x multiple) for which the brand was sold, just a decade after its imaginative conception.
---
TIMELINE
1992: Bombay Sapphire created a label for its bottle that included imagery of some of the botanical plants from which the gin is made.
1998: The illustration of Queen Victoria centre-front on the bottle was improved.
2003: The Bombay Sapphire bottle was redesigned.
2008: The global Bombay Sapphire Revelation luxury bottle-design initiative was launched.
2009: Bombay Sapphire became the world's number one premium gin by value.
2010: The company revised the logo for the bottle and added a linen texture to the label, as well as additional marketing messages intended to improve customer knowledge of the brand's story.
2011: Bombay Sapphire East was introduced, standing as the first credible alternative to the company's original blend.
2012: The brand introduced its balloon glass, designed to provide an improved drinking experience.