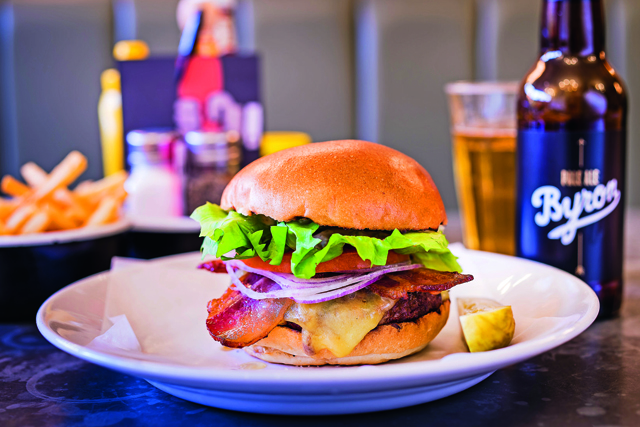 When George Osborne tweeted a picture of himself on the eve of his comprehensive spending review last summer, working late at the office and eating a Byron burger, he invited the opprobrium of his opponents, who suggested a truly cost-conscious Chancellor would patronise the likes of McDonald's rather than an upmarket establish­ment where the cheapest hamburgers cost £6.95.
He then compounded his error by claiming the Golden Arches don't deliver. True – but neither does Byron. It was revealed that a Treasury official had been dispatched to the Waterloo branch to bring back the food for him.
If Osborne had been intending to promote an image of himself as a man of the people, it backfired (even local government minister Eric Pickles got in on the joke, tweeting a similar picture of himself with a salad). None­theless, the Chancellor had handed the restaurant chain a slab of publicity of the kind money can't buy. With a side order of niche branding to go.
In fairness, Byron had been doing quite nicely even before this. Founded by Tom Byng in 2007, backed by Gondola Holdings (which also owns PizzaExpress and Zizzi), the chain expanded steadily and posted profits of £7m in 2012, making it one of the star performers in that group's portfolio.
Ironically, for a casual-dining chain branded upmarket, Byron appears to have thrived in the economic down­turn, with its prices seen as preferable to a full restaurant experience, while its menu of comfort food offered an easy treat for the economically anxious.
Byron's obvious model, and rival on launch, was the New Zealand-themed Gourmet Burger Kitchen chain, although it chose the more obvious geographic inspiration of the US. Its emphasis was on quality and simplicity: a small menu, but with everything prepared to perfection and made on-site. Its décor is similarly simple and stripped down, reflected also in the abundance of unadorned brickwork on its website.
With an increasing number of restaurants and healthy profits, it was no surprise when Gondola made it known in late 2012 that it was open to offers in the region of £80m-£100m for Byron. What was perhaps more surprising was that the offers the group did receive were at the lower end of this valuation; Gondola took the company off the block in June last year.
However, perhaps aided by its Treasury-themed media blitz, Byron was eventually sold in October to the investment group Hutton Collins Partners (which already owns noodle-restaurant chain Wagamama) for the full valuation of £100m.
Founder Byng is still in charge of Byron, and his attention to detail will be crucial if the company is to avoid blurring into the homogeneity of the high street as it continues to expand.
Byng likes to get around on his motorbike and see every restaurant personally on a regular basis.
He used to be able to do the full circuit in two-and-a-half days, but having added branches as far afield as Kent and Manchester, that journey will now take nearer a week. Perhaps he could find time en route to drop off a burger at 11 Downing Street by way of thanks.

Image credit: Richard Lewisohn, Mount Pleasant Studio
Did you know?
The restaurant chain is named partly after the poet (who was, for at least some of his life, vegetarian) and partly because the Old English word "byron" means "of the cowshed".

Byron's founder, Tom Byng (right), has a degree in classics from Brown, the Ivy League university in Providence, Rhode Island. It was while studying there that he dev­eloped a love of burgers, which he described as "America's contribution to haute cuisine".

Currently, Byron has 36 branches, 31 of which are in London. To date, only one of its restaurants has closed. The outlet in Guildford, Surrey, was, according to Byng, "in the wrong bit of town".

Byron's connections to the political elite extend beyond George Osborne. The leaders of all three main political parties have been seen eating in the chain's restaurants, while it was said that David Cameron planned his Conservative leadership bid from Zucca, the Notting Hill restaurant that Byng ran before going on to set up Byron.

Customers who raised more than £25 for annual prostate-cancer charity event Movember could claim a free burger or main salad every day for 10 days at Byron's restaurants.
Sector round-up
PizzaExpress
An international brand fast approaching its 50th birthday,
with more than 440 restaurants Europe-wide, PizzaExpress is a senior figure and major player in the upmarket fast-food arena.
Constantly striving to keep both its image and menu fresh, the chain manages to thrive in a crowded market thanks to ideas as diverse as a strong social-media presence and the sponsorship of music awards.


YO! Sushi
The conveyor belt at YO! Sushi travels at a steady 8cm per second. This novelty was enough to give the restaurant, modelled on the concept of the Japanese "kaiten" sushi bar, an impressive momentum when entrepreneur Simon Woodroffe launched it in London in 1997.
He subsequently sold up to launch Yotel, but the sushi chain now comprises more than 70 restaurants worldwide. The conveyor belt might now be old news, but the brand remains strong.


Strada
Although he's not been involved since selling up in 2005, the Italian restaurant chain was founded by serial entrepreneur Luke Johnson, who, with Hugh Osmond, transformed the fortunes of PizzaExpress in the 1990s.
Johnson positioned Strada upmarket of his earlier venture, aiming for cover­age mainly in the south of England. The chain, now owned by Tragus, boasts 70 sites nationwide.

Nando's
The runaway, international fast-food success story of the past 20 years, the peri-peri chicken chain has proved as popular with millionaire footballers as with the general public.
With more than 280 restaurants in Britain (which offer a 20% discount to NHS and emergency-service workers) Nando's has become a ubiquitous, but welcome, sight on the high street.

Zizzi
Zizzi was founded (along with ASK) in 1999 by brothers Adam and Sam Kaye. It was sold in 2006 to Gondola Holdings. In the highly competitive Italian restaurant sector, with Jamie's Italian chain launching directly against it, Zizzi has tried to differentiate itself through the quality and authenticity of its cuisine.
This it has achieved, although strong City rumours suggest Gondola aims to unload all its restaurants this year.