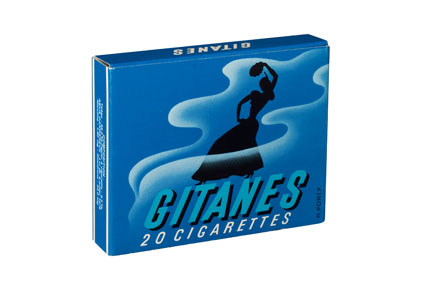 The Gitanes cigarette brand originated in France in 1910. Maurice Giot produced an art deco-style pack in 1927, the first in a long line of collaborations between the brand and renowned artists and designers.
An image of a 'Gypsy dancer' first appeared on Gitanes cigarette packets in 1943, designed by Molusson. In 1947, Max Ponty refined the figure in silhouette to create an association that is still going strong - Gitanes Blonde packets feature a similar design today.
The dancer silhouette has been reworked by many famous poster designers, such as Savignac in 1953 and Morvan in 1960. Such associations have helped Gitanes to greatly increase its brand awareness, and create a strong, upmarket identity.
A successful series of product launches has helped Gitanes extend its consumer appeal worldwide. In 1986, it unveiled its Gitanes Blonde cigarettes, which had become available internationally by the following year.
The Blondes packets had a custom design for each of the countries in which they were available, though the dancer silhouette remained ubiquitous.
It was not until 1997 that the company came up with a standard international design for packets of Blondes.
The brand has benefited from considerable marketing investment over the years, as well as simple word-of-mouth speculation that world-famous artists favoured Gitanes. Writers Jean-Paul Sartre and George Orwell were among them, while it was reported that John Lennon smoked the brand's cigarettes in an effort to deepen his voice.
Saul 'Slash' Hudson, formerly the lead guitarist in rock band Guns N' Roses, bears a tattoo featuring the famous wispy image of the Gitanes dancer.
The 90s were particularly successful for Gitanes in terms of brand engagement. In an effort to increase awareness, the brand began sponsoring motor-sports such as Formula One racing and the Dakar rally. These activities helped to attract a wider range of potential customers while avoiding any dilution of the brand image and thus retained the loyalty of its more artistic core customer base.
Its links with famous artists remained strong, with names such as Hugo Pratt and Andree Putman associated with the brand. In 1994, Yves Saint Laurent and Jean Paul Gaultier held a fashion exhibition where they hung their clothes upon models of the dancer silhouette.
In 2008, Gitanes was added to the portfolio of Imperial Tobacco following its acquisition of manufacturer Altadis. Gauloises, a similar product to Gitanes in that it professed an appeal that stretched into artistic circles, also became part of Imperial Tobacco.
The acquisition made Gitanes part of the world's fourth-biggest cigarette company.
---
BRAND LESSON
By Silas Amos, creative strategist, JKR
Gitanes is a great example of a design that can be called 'quintessential'; it's quintessentially French, with a particular cool allure and style all of its own.
The design is a statement that says one likes life unfiltered, jazz-scored and a little bit Left Bank. No wonder Bowie was a fan, and Paul Weller posed for the cover of The Face slipping a pack into his jacket pocket. Like all really powerful brands, it is a signpost for values we ascribe to it and which it in turn inspires.
Every individual element of the pack has a particular Gallic flavour. The bold slanting typography. The moody illustration of the Gypsy looks like a classic poster image, in the manner of Cassandra. The thick cigarettes and square shape of the box nod to a 'have to be different' Frenchness.
None of these alone would make for an 'iconic' pack, but in their beautiful combination they look, well, just right. It's a very feminine design, holding a pretty masculine 'hardcore' product.
As a design lesson, perhaps one might say it shows that a brand can 'own' something as generic as colour; the particular blue, with its light and shade, can only be Gitanes. I believe Luc Besson used it as inspiration for the design of a room in one of his films.
That's testament to a design that evokes a spirit, rather than merely proclaims a brand, which is arguably a more powerful achievement than being simply distinctive. It's just a shame they don't taste as good as they look.
---
TIMELINE
1910: The Gitanes cigarette brand was born.
1927: Maurice Giot was the first famous designer to create imagery for Gitanes cigarette packets. He introduced an art deco-style pack design.
1930s: The first graphic ads for Gitanes appeared.
1943: Molusson introduced the 'Gitanes Gypsy' to its pack design.
1947: Max Ponty developed the Gypsy silhouette, adding a wisp of smoke to the design. This image is still recognisable on Gitanes packs.
1986: Gitanes Blondes cigarettes were introduced in France.
1990s: Awareness of the brand was heightened by its sponsorship of motorsport events such as Formula One and the Dakar rally.
1997: A standard worldwide design for packets of Gitanes Blondes was settled upon. Prior to this, the design varied in each country in which the product was available.
2008: UK FTSE company Imperial Tobacco added Gitanes and Gauloises to its portfolio through the acquisition of manufacturer Altadis, making it the world's fourth-biggest cigarette business.