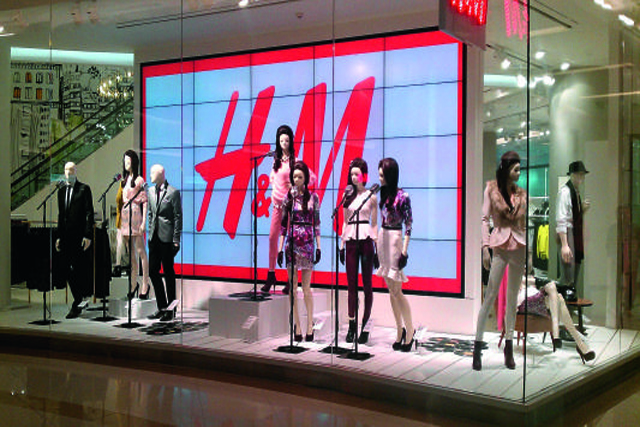 Whatever the complexities of running a multibillion-pound, globe-straddling retail behemoth might be, they are increased exponentially when that organisation operates in the fast-paced, quixotic world of fashion.
Kudos, then, to H&M, not simply for its ability to expand constantly and deliver basics and cutting-edge fashion under the same roof, but also for making the whole process look so easy.
From the simple, unpretentious layout of its stores to the unambiguous wording of its business concept – "Fashion and quality at the best price" – H&M appears confident but not complacent, buoyed by a background of success, but kept honest by an army of imitators all competing hungrily for the same market.
H&M's story began in 1947 when Swedish retailer, Erling Persson visited New York and was instantly impressed by department stores like Macy's and Barneys, which sold high volumes of clothing at low prices.
On his return to Sweden, he set up Hennes (Swedish for "Hers") in the town of Västerås, north-west of Stockholm.
Persson had little interest in fashion but a gift for managing the supply chain, and by 1968, when he bought Mauritz Widforss, a Stockholm hunting store with a stock of men's clothing (Mauritz provides the M in the company name), he had already expanded into Denmark and Norway.
Under the guidance of Persson's son, Stefan, the company enjoyed a sustained period of remarkable expansion throughout most of the 1980s and 1990s, regularly recording annual growth of more than 25%.
The company became synonymous with disposable chic and carved out distinct markets in its different territories, generally thanks to the speed of feedback from outlying stores to its Hamburg distribution hub.
Arguably the company's smartest move in recent years has been to take ownership of the idea of the designer tie-in, although it was Target and Topshop that pioneered the idea.
H&M's cheap and chic collaborations with Karl Lagerfeld in 2004 and Stella McCartney the following year were both game-changers, enabling its shoppers to get their hands on in-demand designs for a fraction of their normal price – a McCartney-designed sundress had been selling at Harvey Nichols in 2005 for more than £600.
Comme des Garçons at H&M caused a stampede, Versace provoked acres of column inches and the 2012 Maison Martin Margiela collaboration left financially challenged fashionistas drooling.
Beyond the obvious rewards of a retail spike and increased press coverage, the collaborations have reinforced the idea that H&M is good for more than just the basics and put clear water between itself and rivals like Primark.
H&M has also learned from its setbacks. Along with most other companies in the world of fast fashion, it has been criticised for its use of cheap labour and unethically sourced materials.
Its response, which is ongoing, has been impressive, and has involved use of organic cotton, water-management plans, recycling initiatives and improving conditions in its suppliers' factories.
Online expansion will be crucial for its next phase of development, but the excitement of its designer collab­orations, allied to the convenience of its Everyday range, suggest H&M will be a dominant force on the high street for years to come.
Did you know?
Prior to founding H&M, Erling Persson worked as a novelties salesman.
Persson, who died in 2002, passed control of the company to his son, Stefan in 1982. Stefan Persson has an estimated personal wealth of $28bn, is said to be the 12th-richest man in the world and, among other holdings, owns the entire village of Linkenholt in Hampshire, for which it is estimated he paid in the region of £25m.
H&M has 2900 stores in 49 countries.
So popular (and potentially hazardous) are the launches of its designer tie-ins, that H&M staff issue customers with wristbands indicating their timed slots for shopping.
In 2013 H&M rolled out a programme across its stores to encourage recycling of clothes. Customers in the UK can bring in garments in any condition and get a voucher that entitles them to £5 off any purchase over £30 (shoppers in mainland Europe are given 15% off any purchase). This is the company's response to the fact that every year in the UK £1bn of clothing that could be recycled goes to landfill.
Sector round up
Zara
Zara's success is built on the miraculous speed of its supply chain, which can move garments inspired by the runway from concept to store within days.
If Zara took its lead from H&M, the fact that its owner Amancio Ortega is now rated the third-wealthiest man in the world, with a personal fortune of $57bn, suggests that the student might have become the master.

Pull & Bear
Following on from Zara's success, Pull & Bear was launched in 1991 by their mutual parent company Inditex to consolidate the group's position within the industry and boost its appeal to a youthful market.
Adopting many of the same fast-fashion strategies as Zara, Pull & Bear is aimed at 14- to 28-year-olds and now has more than 800 stores worldwide.

Mango
Another Spanish, high-style, low-priced giant, Mango launched in Barcelona in 1984, ventured beyond Spain eight years later and has continued its worldwide expansion ever since.
Despite the recession, the company enjoyed a record 2012, with successful promotions led by actor Scarlett Johansson and model Miranda Kerr leading to a doubling of online sales and a 79% rise in profits.

Forever 21
Aimed initially at teens and children, Forever 21 has only recently expanded internationally, launching its first European store in Dublin in 2010.
Originally called Fashion 21, the chain is the brainchild of South Korean-born Americans Do Won Chang and his wife, Jin Sook Chang, whose Christian beliefs are shown in the store's bags, which all carry the Biblical reference "John 3:16".


Topshop
A permanent fixture, along with its sibling Topman, on the British high street since the 1970s, Topshop has undergone its fair share of reinventions, but none more effective than the mid-2000s collaboration with supermodel Kate Moss, which re-energised the brand and ushered in a period of international expansion.