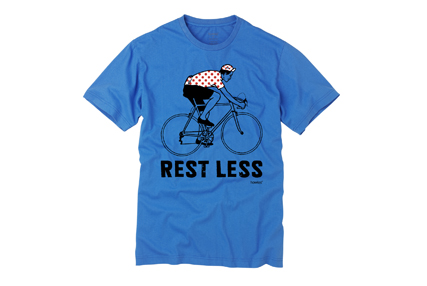 Howies, the eco-friendly clothing brand, was set up by Clare and DavidHieatt in the living room of their London flat in 1995.
The Welsh couple initially produced a small selection of T-shirts, inspired by their shared passion for outdoor activity. Made from organic cotton, and produced in a factory using carbon-neutral methods, the first four T-shirts were intended to satisfy the outdoor enthusiasts' need for the highest-quality sportswear. Featuring quirky slogans on environmental and political themes, and printed on 'green' material, the Hieatts created a groundbreaking concept.
Initially the garments were sold via classified ads in a mountain-bike magazine to give the brand a clear sporting identity. The T-shirts had a retail price of £30; the aim was to provide a durable product, suited to an active lifestyle, which was also affordable.
The T-shirts proved an immediate success, and by the end of 1999, a range of Howies products was being sold across 45 shops. Despite the growth of the business, however, the Hieatts kept Howies employee numbers to a minimum.
To sustain the growth of the brand, in 2000 the company set up a full mail-order operation. This enabled Howies to scale the business, while maintaining its small team of ethically minded individuals. In 2001 the Hieatts moved the firm to their home town of Cardigan and both quit their full-time marketing jobs so that they could invest all their time and money in the brand.
Despite its small stature, Howies was seen as a threat by US clothing behemoth Levi-Strauss. In 2003 it threatened to take legal action against Howies over the placement of a grey label on the right back pocket of its trousers, the same position as Levi's trademark red tab.
Howies responded with a typically innovative approach; it sewed over its labels with pieces of material carrying wording such as 'This blue patch must not be mistaken for a red tab'.
In 2006, after rejecting various takeover offers, including one from Marks & Spencer, Howies was bought by outdoor clothing brand Timberland. Its acquisition allowed Howies to maintain its environmental values, while being part of a sizeable franchise.
Now 17 years old, the company maintains its eco-friendly approach. Of its annual turnover, 1% is apportioned, as an 'earth tax', to grass-roots, environmental projects. In addition, Howies uses 100% renewable electricity.
Howies also promotes an ethical and active lifestyle by sponsoring budding sportsmen and women. The company recently designed a special-edition 'tee' to celebrate Bradley Wiggins' success in the Tour de France. All proceeds went to the Dave Rayner fund, a charity that has supported hundreds of up-and-coming British cyclists since 1996.
In January of this year, Howies' management team announced that it had bought the company back from Timberland, which had itself been acquired by the VF Corporation.
Howies therefore avoided simply becoming a small part of a multibillion-pound organisation, retaining its individuality in the process.
---
BRAND LESSON
By Silas Amos, creative strategist, JKR
Look up 'design' in the OED. It can mean '1. A preliminary plan, sketch, or concept, for the making or production of a building, machine, garment, etc. 2. The art of producing these.'
By this definition Howies is a design champion. More than most, it considers its materials and production. It is a thoughtful brand. It goes for triplerather than double-stitching on jeans.
It chooses organic cotton, because it's kinder to your skin. It is happy to charge a little more for a little better.
In garment retail there's often less than meets the eye to successful brands. Conversely, Howies apparently considers substance first, then thinks a little about the style. Rather than blandly meaning nothing much to a huge target audience, it has elected to mean something in particular to a more selective group of people.
To my mind it is kind of a sportier, spikier (more adult?) take on the Innocent Drinks vibe. It talks about materials 'designed by nature' such as Merino wool that 'will never, ever stink ... no matter how much you sweat in it'. Having a point of view gives Howies clarity, in determining what its product, styling and communication approach can be. As such, all these elements complement one another and become greater than the sum of their parts.
It comes down to the consideration with which Howies put things together, in spirit and in manufacture. That is not always the case with 'designer' quality, as opposed to quality design.
---
TIMELINE
1995: Clare and David Hieatt set up the Howies clothing range producing four T-shirts in their London flat as a break from their marketing day jobs.
2000: The company decided to sell by mail order as demand for Howies products grew. David Hieatt left ad agency Abbott Mead Vickers to run the company full time. No other full-time staff were employed.
2001: Howies moved to Cardigan, Wales, with two full-time staff.
2003: Turnover stood at £160,000, with Howies products sold in 70 shops across the UK. The website Howies.co.uk was relaunched, with an active blog devoted to musings on sport and the environment.
2005: Howies began using ethical bank Triodos.
2008: Howies was named sixth-most recession-proof company by the Financial Times.
View more Champions of Design