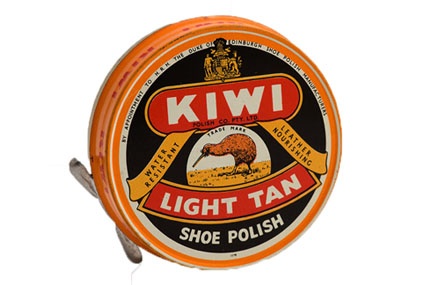 When William Ramsay created Kiwi shoe polish in 1906, he named it so because his wife was from New Zealand. The kiwi bird also fitted well as a logo on the round boot-polish tin.
The Scottish ex-pat sold his boot polish around Melbourne. Kiwi not only polished, but cared for the leather, restored colour, and was waterproof, giving it the edge over rival brands.
Two years later, Ramsay was exporting the product to Europe, and colour variants such as dark tan and oxblood as well as a patent leather polish were added to the range. The polish was also used for other leather goods, such as saddles.
In 1913 Ramsay moved to England to serve the growing European market, but he died the following year. His father John took over as chairman of the newly formed Kiwi Polish Company.
Sales of Kiwi rocketed after the outbreak of World War I, as the water-resistant polish became an essential for soldiers in the trenches.
By 1916, 30m tins of Kiwi polish had been sold worldwide, and by 1924 it was being distributed to 50 countries, including Russia, China and parts of South America. As the Great Depression hit, Kiwi improved its production methods with temperature controls and better raw materials to ensure the brand's quality remained high.
Manufacturing plants opened in New Zealand, France and Poland during the 30s, and Kiwi was introduced to the US via US soldiers stationed in Shanghai. Its popularity stateside grew after the outbreak of World War II, and Kiwi opened a factory in Philadelphia shortly after. Though the factory in Poland was destroyed, the French factory occupied and the British factory bombed during the war, the product was again in great demand from the British Army.
Time war correspondent Walter Graeber reported from the front line that 'old tins of British-made Kiwi polish lay side by side with empty bottles of Chianti'.
In 1967 the company was brought together under the name Kiwi International, following continued expansion in Asia, Africa and North America. In 1984 Kiwi was acquired by what would become Sara Lee, ending up under the ownership of SC Johnson in 2011.
Over more than 100 years the small round tins of Kiwi polish have hardly changed. While its design may have evolved, Kiwi has retained the red, black and white colour scheme and the Kiwi bird.
---
BRAND LESSON
By James Joice, client director, JKR
Who would have guessed that opening a tin of shoe polish could be so pleasing? Don't get me wrong. Cleaning shoes is not a passion of mine; it's just that turning the little lever on Kiwi's container has always been a nice moment in an otherwise tedious task.
While a superior product formulation, more-affordable leather and a couple of World Wars all helped Kiwi to become a global leader in the sector, the opening mechanism surely played a key part. Introduced as a practical design solution (ergonomic and keeping fingers free from polish), it quietly became a ritual.
Somehow, unscrewing or prising off the lid just doesn't make the same impression as popping it open.
We discard brand rituals like these at our peril - who can forget when Nestle did away with Kit Kat's silver foil and paper, tearing off and throwing away precious brand equity built over decades?
As you would expect, Kiwi has innovated and developed products that can save you having to take off your shoes before you polish them or washing your hands once you have. Refreshingly though, the original tin remains at the heart of the brand more than 100 years later.
They say that you can judge a man by his shoes, apparently because it tells you whether he takes pride in the little things. Kiwi teaches us that the smallest of design details can make all the difference.
---
TIMELINE
1878: The Ramsay family, including a young William, moved to Australia, where they prospered in the property business.
1901: On a visit to New Zealand, Ramsay met his future wife, Annie Elizabeth Meek, and he named the shoe polish after the flightless bird associated with that country.
1914: William Ramsay died and the business was taken over by his father John, who was succeeded 10 years later by William's sons.
2006: The business collected and distributed 100,000 shoes for Africa as part of project Malaki, to mark 100 years of Kiwi.
2011: SC Johnson acquired Kiwi for a reported $328m.