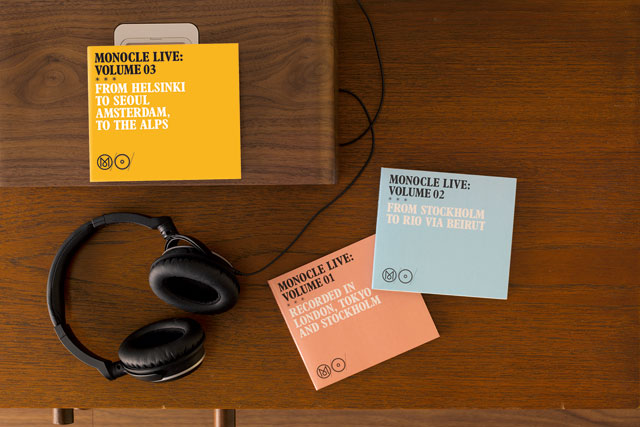 The stylishly upscale magazine Monocle launched in February 2007. The brainchild of Tyler Brule, it now encompasses print, web and broadcast, with a shop and designer products enabling people to live the 'Monocle lifestyle'.
Having previously launched the successful Wallpaper* magazine in 1996, Brule wanted to create a title covering global affairs, business, culture and design, while firmly avoiding celebrity stories. The content was stylishly presented in a weighty tome, covering everything from the world's 'most liveable cities' to Ghana's oil wealth.
The magazine has foreign correspondents around the globe, in contrast to the majority of newspapers, which are closing overseas bureaux. Significantly, it attracts advertisers such as Rolex at a time of diminishing ad revenue and significant change in media. Monocle has made a profit from print by turning it into a must-have lifestyle brand.
Between selling Wallpaper* and creating Monocle, Brule set up Winkreative, a design, branding and creative agency with clients including American Express and British Airways. It's no surprise that his brand understanding has informed the development of Monocle.
A core team of key talent, including ex-Independent journalist Andrew Tuck, designer Dan Hill (formerly head of interactive technology and design at the BBC) and creative director Richard Spencer Powell, helped turn the diverse Monocle offerings into must-haves.
The website follows through the slick design of the print edition, creating a consistency that strengthens both. Print and online content complement each other, with magazine stories enhanced online with video. Its 15,600 subscribers access podcasts and the Monocle 24 radio station online.
In 2010 it introduced bi-annual newspapers Monocle Mediterraneo and Monocle Alpino; that year Brule also hosted a Monocle TV show on BBC World, and later on Bloomberg TV.
Monocle has translated the global lifestyle from its pages to readers' lives via shops in London, Hong Kong, Tokyo, New York and online.
Rather than simply selling items with a Monocle logo, Brule and his team carefully choose collaborations with brands such as Comme des Garcons, art prints by up-and-coming artists and furniture made with designers and architects.
High price-point items, such as a bag by leather-goods company Delvaux priced £1800, sit alongside others such as the Monocle album for £20. Thus it caters to those living the jet-setting lifestyle as well as those aspiring to it, without compromising the brand.
In five years Monocle has attracted 150,000 readers across 100 markets and has bucked global trends to create a successful business model in publishing as well as a growing lifestyle brand.
---
BRAND LESSON
Andy Knowles, chairman, JKR
For an object lesson in value creation, cast your eye over Monocle.
Positioned at the intersection of culture, aesthetics and 'global affairs', in contrast to glossy rivals like Vogue and the FT's How to Spend It, Monocle celebrates a knowing, inconspicuous consumption.
Showcasing thoughtfully designed goods and services from an international community of socially and environmentally sensitive artisans, it's a distinctive take on consumerism cogently expressed by its design.
Cover images set against polished black, elegant serif typefaces and the three-column layout echo the visual authority of the broadsheet press, while its matt paper, realistic photography and charming hand-drawn illustrations delight and flatter the intelligence of an affluent audience perhaps aspiring to connect with a less superficial lifestyle.
To its business-travelling, tech-harassed readership, Monocle provides a haven of calm, celebrating and sharing indulgent pleasures to be taken at a slower pace. It's only a temporary respite; the addiction to novelty of its always-connected, go-getting readers must also be catered to by streaming Monocle 24 radio over the web.
Yet we should suppress any latent cynicism. By celebrating human craftsmanship as an antidote to mass production, Monocle is profitably evolving a print-based, multichannel business and encouraging the rich to progress beyond shallow materialism by looking at the world through the prism of design.
---
TIMELINE
2007: The name chosen for the title, The Edit, was already in use. Founder Tyler Brule and creative director Richard Spencer Powell came up with Monocle, which sounded suitably old-fashioned and established.
2007: The Monocle podcast hit the top of the iTunes podcast chart, overtaking established media brands such as the BBC and The Economist.
2007: Monocle's first 'Most Liveable Cities Index' was published, becoming an annual feature; Zurich was voted top in 2012, based on criteria such as safety and quality of architecture.
2008: Monocle opened its first retail store in Marylebone, London.
2008: The title collaborated with Japanese fashion label Comme des Garcons to create its first fragrance.
2011: Online radio Monocle 24 launched through the Monocle.com website, iTunes and Monocle app.
2012: Monocle celebrated its fifth anniversary with a party in New York attended by the likes of designer Derek Lam, J.Crew chief executive Mickey Drexler and Martha Stewart.