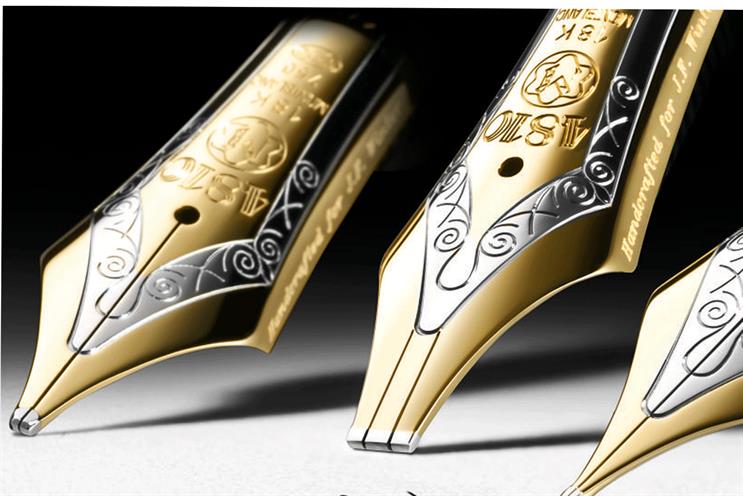 The American author Tom Bodett once wrote, "You can make a new friend, but you can't make an old one." A similar dilemma faces any company wishing to enter the luxury-goods market, where a premium is placed on a history of excellence. You can make a great product, but you can't make a tradition.
Fortunately for the luxury-goods brand Montblanc, which has expanded into watchmaking and jewellery in recent years, it has history. Since 1906, it has made writing equipment to the most innovative and exacting standards. Moreover, it has a history that's a little racier than one might expect of a brand imbued with all the rectitude and formality associated with a Swiss-owned manufacturer in the luxury-goods sector.
Despite its French name, the company's roots are indisputably German. They can be traced back to Hamburg and a partnership there between salesman Alfred Nehemias, stationer Claus-Johannes Vob and engineer August Eberstein. After reconnaissance trips in 1906 to the US and England, Nehemias and Eberstein returned with plans for their own take on the fountain pen. Two years later, their product, the Rouge et Noir (inspired by the Stendahl novel Le Rouge et Le Noir), sporting a red cap and black ebonite body, was ready to take to market. A year later, a new, improved version – the Montblanc – was launched, complete with the company's future logo, the distinctive, six-pointed white star, inspired by the six glaciers at the top of Europe's highest peak (known by more irreverent types as "the bird splat").
However, before the Montblanc could establish itself as a success, the company was forced to overcome a serious setback, as Eberstein had secretly sold off all its equipment and raw materials to finance his lavish lifestyle. He bolted to the US to avoid prosecution, only to surface in Liverpool, where he continued to apply for fountain-pen patents, but eventually died in obscurity.
In 1924, the company brought out its defining achievement, the Meisterstück (Masterpiece), with its distinctive black resin finish and three gold rings, which continue to inform Montblanc pen design. Five years later it started to engrave the talismanic figure 4810 (the mountain's height in metres) on all its nibs, a practice that continues to this day.
Presently, it became the pen of choice for movers and shakers the world over. Luminaries as diverse as Pope John Paul II and Nelson Mandela have been seen wielding a Montblanc pen. With an eye for innovative advertising opportunities, Montblanc was not slow to exploit these connections.
In 1977 the company was taken over by Dunhill, in turn absorbed into Swiss firm, Richemont. The major innovation under Dunhill was to reduce its range of entry-level goods and focus exclusively on luxury products. It's a lesson that has been taken to heart. A Russian woman recently ordered two diamond-encrusted bespoke Montblanc pens at €545,000 (£459,000) apiece.
Not surprisingly, Montblanc is making major inroads to China, where its two biggest stores are located. Watches sell well here, but the country that invented paper has developed an all-round interest in a pen-maker with history.
Did you know?
Montblanc made an uncharacteristic misjudgement in 2009 when it marked the 140th anniversary of Mahatma Gandhi's birth with a limited-edition pen, selling for £15,500. Amit Modi, secretary of the Sabarmati Ashram, opened by Gandhi in 1917, said: "If he [Gandhi] had seen this, he would have thrown it away."
A Montblanc pen (modified by Q) featured in the 1983 Bond movie Octopussy. It hid an earpiece for a listening device and contained a handy metal-dissolving mixture of nitric and hydrochloric acid.
The company enjoyed the kind of publicity you can't buy in 1963, when West German Chancellor Konrad Adenauer could not find his pen to sign Cologne's Golden Book. Fortunately, US President John F Kennedy was on hand to lend him his Meisterstück 149 (below).

Montblanc pens were used to sign Prince Charles and Lady Diana's wedding certificate and – more permanently – the agreement that united East and West Germany. In 1991, President Mikhail Gorbachev is said to have written his letter of resignation with one.
A limited-edition Meisterstück Solitaire Royal, decorated with 4810 pavé diamonds entered the Guinness Book of Records in 1994 as the world's most-expensive fountain pen.
Today, pens account for less than 50% of Montblanc's revenue, while it has more than 360 boutiques worldwide.
Sector round-up
Parker
Parker can trace its lineage to the 19th century, but is probably best known for marketing the bestselling fountain pen to date, the Parker 51. While the company has struggled in recent years, its products remain highly collectable and its distinctive arrow design – created by the artist Joseph Platt in 1933 – arguably remains the most famous logo in the business.
Montegrappa
Famous for its pens' distinctive octagonal shape, Italy's most venerable manufacturer of writing implements is still run from its original factory in Bassano del Grappa. Much is made of its patronage by Ernest Hemingway during World War I, but modern audiences might be more impressed by its gaudy Sylvester Stallone collection, Chaos.
ST Dupont
With its roots in luxury luggage, ST Dupont is a relative newcomer to the pen business, but made its mark in 1973 with the Classique, a luxury ballpoint. In 2005, re­affir­ming its intention to be at the cut­ting edge of technology, it created the Neo-Classique President, the first luxury pen to include a USB memory stick.
Yard-O-Led (YOL)
Founded in London in 1934 by Ludwig Brenner, YOL's success is based on a propelling pencil design, which featured 12 three-inch leads (hence the "yard of lead"). It subsequently moved to Birmingham after its original premises was destroyed in the Blitz. Now owned by the Letts Filofax group, YOL has retained a worldwide reputation for fine craftsmanship and classic sterling silver designs.
Sheaffer
Walter Sheaffer began with a competitive advantage in 1913, pioneering a lever-filling fountain pen, but given the company's humble origins in Iowa, he showed courage in targeting the luxury market. The company's Lifetime pen, launched in 1920, cost three times that of its nearest rival, but was a huge success, and the firm has retained a prominent position in the US luxury market ever since. Recently acquired by US firm, Rubbermaid, Sheaffer will soon resume production in the States.