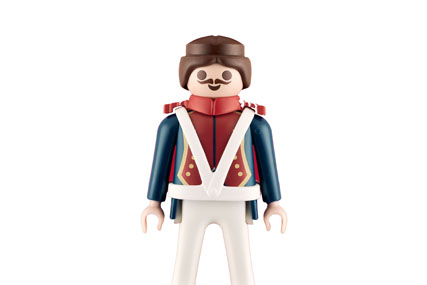 The classic Playmobil toy figure was launched in 1974. German toy-maker Geobra Brandstatter asked chief designer Hans Beck to create a figure for a series of toy vehicles it was producing.
He designed detailed miniature people with rotating heads, and moveable limbs. A key aspect of the design was the shape of the hands, which were able to grip things. This led to a range of accessories that the characters could hold.
At just under three inches tall, the figures were created to fit into a child's hand. The simple, bold-featured face, based on children's drawings, was neutral enough for a child to place them in any imaginary situation. The features themselves were put on to the toys by injecting the plastic rather than printing, to prevent them from fading.
The potential of the figures far exceeded that of the original toys they were designed to accompany, and a set of samples made its debut at the Nuremberg Toy Fair in 1974. Playmobil subsequently went into full production, and by the end of the year, sales had hit the 3m mark.
Although Horst Brandstatter, managing director of Geobra Brandstatter, was initially sceptical about the toy, he soon came around to Beck's idea.
The first figures Beck created were knights, native Americans and construction workers. He then created elaborate sets for them to play in, including vehicles and animals. The Playmobil world was born.
In 1975, Playmobil was made available outside Germany. Exports, mainly to Europe, now account for 69% of sales. The production of Playmobil was moved to Malta in the early 70s to cut costs. Each year, the Maltese factory produces 100m figures and the first Playmobil theme park opened on the island in 1995. There are also manufacturing facilities in Spain, the Czech Republic and Germany.
The original figures have been joined over the years by myriad themes, including pirate, stone age, zoo and future planet. In all, 3200 types of figure have been made. Children even write to the company with ideas. These are passed on to the R&D department for consideration, the only caveat being no characters can involve violence or horror.
Brandstatter has also vowed not to produce tie-ups with movies or other fleeting themes, as it adheres to its philosophy to foster children's imaginations.
---
BRAND LESSON
By Silas Amos, creative strategist, JKR
When one trots out cliches about the Germans, great toymaking is not top of mind. But they do excel at it, with a tradition for making things very, very well.
Playmobil is a case in point. On one level, we see charming little characters inhabiting a jolly place, their adventures played out under the packaging's blue skies. Nothing too dark is likely to happen. However, one look at the design blueprints reveals a totally considered product - ergonomically, aesthetically and conceptually.
The folk are designed to fit into a child's hand. Robust and collectable, it's the interchangeable nature of the little characters' costumes and props that is the design's stroke of genius. There is every chance a pirate might swap his cutlass for a baby's stroller or his tri-cornered hat for a construction helmet. He may even end the day a princess.
Civilisation is a result of our mastering of tools and our imaginative application of them. With the learning tool that is Playmobil, whole civilisations can be made in microcosm.
Children can create and order their own particular universe, learning about how everyone can play their part and how everything connects. No small achievement for little toys that can be bought for almost pocket-money prices.
Garish 'cross-platform digitally interfacing' successes such as Moshi Monsters and Skylanders is likely to make Playmobil reflect on how it might evolve and stay relevant. I hope not - I think its own little world suits it just fine.
---
TIMELINE
1954: Horst Brandstatter joined the family company started by his grandfather in 1876. He moved into manufacturing plastic goods; its first success was the hula hoop.
1974: Hans Beck created Playmobil for Brandstatter.
1976: The first female figures were introduced.
1980: The number of Playmobil toys produced hit 320m.
2003: Playmobil celebrated its 30th birthday. A golden knight toy was produced to mark the occasion.
2006: Playmobil figures gained articulated feet in honour of the World Cup.
2011: Playmobil achieved turnover of EUR564m.
2011: A retrospective of Playmobil history was featured in an exhibition at the Swiss museum of design.