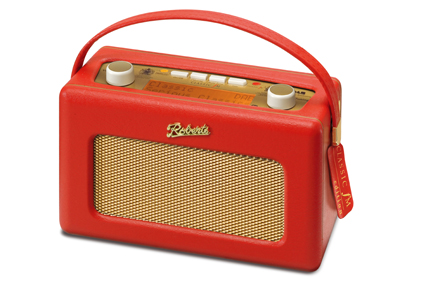 At the forefront of technology in the mid-20th century, the Roberts revival radio has capitalised on its history and a retro aesthetic to maintain a presence in the new millennium.
The Roberts Radio Company was founded in 1932 by Harry Roberts and Leslie Bidmead. The duo began making wireless sets in a couple of rooms around the corner from Oxford Street in central London, with £50 of start-up capital.
With their sights set high and using Harry's expert sales skills, they got their first model into the halls of Harrods and other leading department stores. In the first year, the company made an average of three radios a week - to order, due to lack of space - generating a turnover of £1557. By 1936 it was making six sets a week, its maximum capacity. To keep up with demand and further expansion, it relocated to bigger premises nearby.
As radio technology and components became smaller, Roberts was able to reduce the size of its radios and began promoting their portability, its early ad campaigns demonstrating that they could be taken anywhere. The cost of radios also began to fall, providing a ready market for its products. Roberts expanded, selling via distributors throughout the UK; by 1938/39, its turnover had reached £13,500.
Production continued despite the war, as radios and their components were used by the military. The business relocated to Surrey, avoiding the Blitz that destroyed its London site. In 1946 it returned to making its in-demand domestic radios. During this boom period for the brand, a Roberts radio was exhibited in an industrial design exhibition at the Victoria & Albert museum and the company made its debut at the Radiolympia show.
Having supplied several sets to the royal household, the company was also granted a Royal Warrant, becoming official radio manufacturer to the Queen.
The development of the transistor in the 50s led to the birth of the truly portable radio. The R66 model, created in 1956, introduced the familiar square box-shape with carry handle, front-facing speaker and top-mounted dials.
This popular style remained in production into the 60s and was seen on the arms of celebrities, almost as a fashion accessory. Innovative coverings such as pony-skin, leopard-print and jewel-encrusted suede also contributed to the high-end image. It was this look that would inspire the Revival range of Roberts radios.
The business, still run by the Roberts family, was facing difficulties with the dominance of TV and cheaper electrical imports from Asia. The chance appearance of a 50s-style Roberts radio in a Martini ad led to enquiries from people wanting to buy one. A limited number were made to meet the demand, which soon grew.
The Revival range was put into full production in the early 90s, featuring the original red leather cloth cover. It became the core of Roberts when, in 1994, the company was taken over by electricals group Glen Dimplex.
The Revival colour range was expanded, and models were created in partnership with the likes of Jaguar and Mulberry, widening the appeal of the brand while retaining Roberts' heritage.
The Revival range is now Roberts' best-seller, but has continued to evolve, integrating high-quality DAB and internet radio within the classic exterior. The style and selection of colours and designs, from Cath Kidston florals to a Union Jack, appeal to those with retro sensibilities who demand the latest technology.
---
BRAND LESSON
Silas Amos, creative strategist, JKR
Today the idea of a radio that does only radio is, arguably, an anachronism. Roberts was part of broadcasting when 'wireless' didn't mean streaming audio via a PC.
Nevertheless, the Roberts Revival is a good example of a particular kind of 'vintage' design; it's progressive retro. Which is to say it might look as 'home and hearth' as a brown teapot, but under the skin it's bang up-to-date.
Trying to switch on an internet-linked model at a pal's house this weekend, the minimal buttons proved too modern for me to figure out myself, and I had to ask for help. It might look old enough for a free bus pass, but I was the one left having a 'senior moment'. Roberts still has a twinkle in the eye, and contemporary engineering inside.
Being progressive retro puts it in good design company, alongside the Aston Martin DBS, the Coke Classic aluminium bottle, Gucci by Gucci and suchlike. These are brands using nostalgia that also have an 'of-the-moment' quality or product offer. It means they should retain relevance long after the vintage fad has faded and the 'Keep calm' poster has been removed from the kitchen wall.
Roberts still looks stylish because its compact, simple form followed function. If it had really embraced the design fashions of the time, it might have aged less successfully. Today there are plenty of funky modern alternatives around, but I suspect your PC will be obsolete or look old-fashioned far quicker than a Roberts.
---
TIMELINE
1940: Harry Roberts received a letter telling him the Queen had personally purchased a Roberts M4D model in the radio department of Harrods.
1955: Roberts Radio Company was appointed as radio manufacturer to Queen Elizabeth II. An application for a Royal Warrant had initially been turned down in 1947.
1959: Roberts modified one of its existing sets at the request of St John's College, Cambridge, for a battery-powered shortwave radio to take on an expedition to Colombia.
1961: The company produced a special-edition, solid-gold-cased radio. The publicity stunt attracted worldwide attention when it was stolen from a department store.
1969: Harry Roberts died and was succeeded by his son, Richard, as chairman and managing director.
1994: Roberts was sold to Glen Dimplex group for an undisclosed sum.
2000: A special edition 'Revival' was created for the Queen Mother to commemorate her 100th birthday.
2012: The brand marked its 80th anniversary with a red, white and blue range celebrating the Queen's Diamond Jubilee.