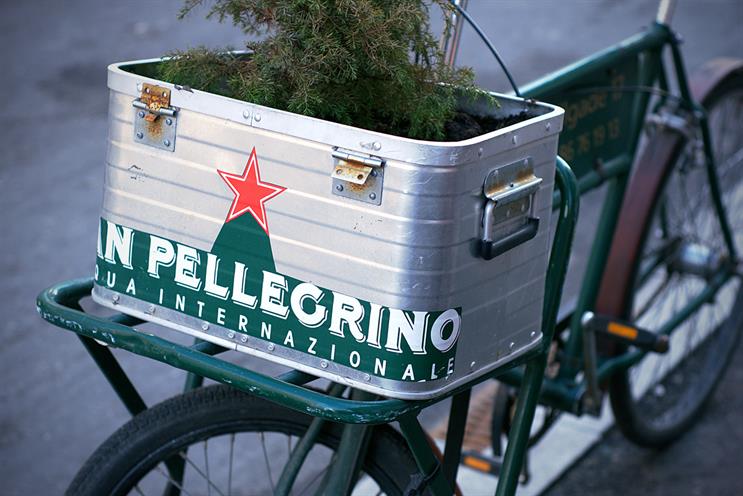 No one is quite sure of the origins of this naturally occurring Italian mineral water, though one hoary legend maintains that Leonardo da Vinci paid the spa a visit and wrote a treatise on its water.
What's not in doubt, however, is the speed with which it transformed its Lombardy home once its commercial potential was realised at the dawn of the 20th century.
Founded in 1899, when the rights to the spring were bought by Societa Anonima delle Terme di San Pellegrino, the company was immediately listed on the Milan Stock Exchange, and by 1901 the town of San Pellegrino Terme had opened spa facilities to enable visitors to sample its waters.
The Grand Hotel and Casino – monuments to art deco grandeur – followed five years later. The town and brand have scarcely looked back since.
The key technical development that made this all possible was the addition of carbon dioxide, which, as well as providing the fizz, helped disguise the aftertaste.
The water had been flowing through fissures in the Dolomite mountains for centuries, absorbing magnesium and calcium carbonate en route, before arriving at a vertical clay fault which forced it quickly upward to the spring.
The only problem was that, like many substances considered to have health-giving properties, it wasn't to everyone's taste. The extra fizz changed that.
Sales of the water were brisk – by 1908 it had sold 3m bottles – but the company was not afraid to look for spin-offs.
Its first venture, launched in 1932, was Aranciata, an orange soda, and this was followed by Chinotto, named after an orangey citrus fruit that grows on the slopes of Mount Etna in Sicily.
In more recent years, cans of San Pellegrino grapefruit (Pompelmo to aficionados) and lemonade, with their distinctive foil topping, have become more widespread at the premium end of the fizzy-drinks market.
As for the parent brand, its familiar green bottle, bearing a blue label and red star, has become synonymous with the white linen of the fine dining experience.
As well as emphasising its connections to Italy, San Pellegrino has long sought to stress such upmarket associations. "Lingering at tables for over 100 years" was the typically idiosyncratic strapline it chose to celebrate its centenary.
It has been similarly discerning in its choice of business collaborations.
In 2010 it brought out a special edition to mark an association with fashion house Missoni (above ) and followed this in 2012 with a tasteful golden label in tribute to the 125th anniversary of Italian jeweller Bulgari.
Both joint ventures could have left any potential designated driver looking wistfully at the cheaper alternative of wine. Not for nothing is it known as "the Champagne of mineral waters".
The premium price, stylish logo and association with upmarket dining have not prevented San Pellegrino from selling in high volumes, but it has achieved this without diluting its brand values.
Even the celebrated sampler of legend, da Vinci, would recognise that as a form of genius.
Did you Know?
In 2007, a German TV programme, Markt, reported that San Pellegrino contained uranium. Parent company Nestlé responded that the levels were within the acceptable threshold and that the element is found in ordinary tap water.
Today, San Pellegrino has sales of more than $500m worldwide.
San Pellegrino was first seen on the big screen in the 1949 comedy The Emperor of Capri, and featured prominently in Fellini's La Dolce Vita.
It has continued to be displayed prominently in films as diverse as From Russia with Love and The Devil Wears Prada, in which Meryl Streep's character is often seen surrounded by bottles.
Analysis of water samples taken in 1748 reveal that the composition of the water then was almost identical to that sold today.
To emphasise its connections to upmarket dining, San Pellegrino sponsors The World's 50 Best Restaurants list, which is currently topped by Spain's El Celler de Can Roca.
Sector round-up
Perrier
Like San Pellegrino, Perrier is owned by Swiss multinational Nestlé, but it's difficult to imagine a more quintessentially French product.
Its distinctive, but commercially impractical, teardrop-shaped bottle is a Gallic icon and carries with it a confidence born of successfully exploiting the Vergèze spring since Napoleon III granted its licence in 1863.
Ty Nant
Since its launch in 1989, Ty Nant – pronounced Tee Nant with a short "a" – has established itself as a major player in the international bottled-water market thanks in no small part to its distinctive cobalt blue bottles designed by the hotelier Robin Sheppard.
It has consolidated its market position with strong overseas sales and the launch of a sister product, TAU mineral water.
Voss
The launch of this Norwegian bottled water came about as a result of a collaboration between childhood friends Christopher Harlem and Ole Christian Sandberg.
The pair purchased a small water company in Vatnestrøm and targeted the US as the prime export market for its "artesian water" of unrivalled purity.
With a clear, cylindrical bottle, designed by former Calvin Klein director, Neil Kraft, Voss limited its distribution to the most exclusive outlets, and triumphed in its upscale market.
Evian
If Evian was once synonymous with sophistication – it received an early namecheck in the pages of Agatha Christie's Murder on the Orient Express.
It has, more recently, made a profitable move into the mass market.
Belu
Pioneering the use of limited-edition designer bottles in partnership with other brands, Evian emphasised its global ambitions via collaboration with the Star Wars franchise.
The counterintuitive premise behind the 2004 launch of eco-friendly brand Belu was that the best way to highlight the lack of clean drinking water in so many parts of the world was to bottle it in countries where no such problem existed.
Despite its charitable intentions, Belu has been a loss-maker for most of its existence, but overhauling its approach in 2010 put the business on a firmer financial footing.
The brand's many green credentials are consequently being matched by figures moving from red to black.