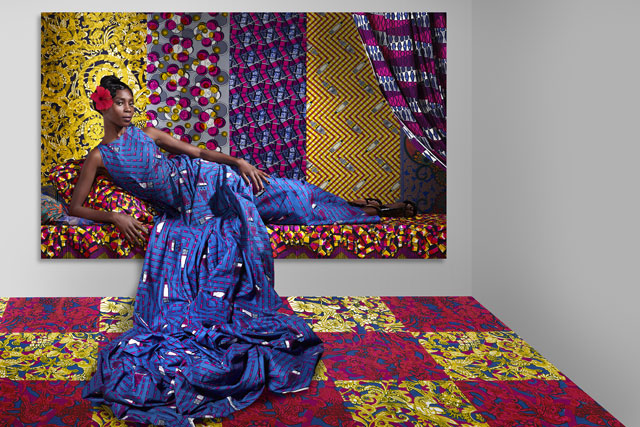 The colourful motifs of
Vlisco's wax-printed cloth are a favourite with African designers and consumers alike. However, this quintessentially African look is the product of a Dutch manufacturer, and was originally inspired by Indonesian batik.
PF van Vlissingen was founded in 1846 by the eponymous Pieter Fentener van Vlissingen. It started in Helmond, where it is still based, and soon started to import batiks from the Dutch East Indies, now Indonesia. The business quickly started copying designs and re-exporting them. By the late 19th century, it was exporting to Africa, where batik had become popular after Dutch African soldiers brought it back home following service in the East Indies.
By the 1900s, the company was focusing on Central and West African markets as Indonesia became more protectionist and price-conscious. Designs were adapted for the African market. Production for the European market ceased in 1981 and the company now focuses totally on Africa, with Benin, Nigeria, Togo, Ghana, Ivory Coast and Congo its key markets. For many years, distribution on the African continent was handled by UAC, now Unilever.
Vlisco is famous for its use of wax printing, which gives the cloth a crackling imprint, the imperfections of which mean that each piece is subtly different. Printed on both sides, "wax hollandais" is renowned for colour fastness and durability. Over the years, the company has developed its technology to produce the cloth in greater quantity, minimising hand printing. However, hand-printed designs were produced until 1993.
In 1973, the company launched its Superwax brand, a luxury product that helped differentiate it from competitors. As well as being a higher-quality cloth, it features a distinct fine-marbling effect and specific designs. It sells for about €85 (£73) for six yards, with luxury editions costing up to €2,000 (£1,722). Vlisco is the only remaining producer of real Dutch wax, a fact that is printed on the selvage and often displayed by wearers as part of a garment's design.
Such has been the success of Vlisco, it is estimated that 75% of wax products on the market are claimed to have been made by the brand. However, many are copies. To counteract fakes, Vlisco launches quick turnaround fabric collections that are harder to copy.
The company has also opened a chain of boutiques in Africa, selling its fashion designs and a new range of high-end accessories. The brand's aim is to have a boutique in every major market, featuring exclusive products.
Vlisco employs about 2,000 people globally and has about 300,000 designs in its archives.
As well as traditional patterns, its team of designers produce cloth influenced by tribal art, Islamic design and pop art.
As young Africans move away from having clothes made, Vlisco is to move further into ready- to-wear clothing.
---
BRAND LESSON
By Andy Knowles, Chairman, JKR
Everyone knows the old cliche that designers wear only black, but, when it comes down to it, we just love these bold colours.
Pick up a copy of New African Woman or put "parade of charm" into Google, and feast your eyes on a plethora of beautiful outfits cut from their cloth. The range of designs in the material is breathtaking, from Islamic geometry to Op Art that is almost worthy of Bridget Riley. The breadth of styles reflects the diversity of the seven-nation design team.
Compelling to the eye, smooth to the touch and steadfast in colour, Vlisco is the go-to brand for cutting-edge designers across much of sub-Saharan Africa. Bizarrely, however, the brand is virtually unknown in the West.
With power-print fabrics a growing trend on the catwalks of Paris and Milan, and growing interest in all things African, perhaps that's set to change.
It's a dream that might be helped along by digital technology – wax print requires etched copper cylinders and laser cutting brings the speedy turn-rounds and short runs needed to compete in the fast-fashion market.
Following 150 years of supplying cloth to dress-makers in standard six-yard bolts, Vlisco is finally launching its own ready-to-wear collections in its flagship stores.
Whether this will upset its symbiotic relationship with fashion designers, only time will tell, but for sheer creative verve, Vlisco is a worthy Champion of Design.
---
TIMELINE
1846: PF van Vlissingen founded; copied Indonesian batik designs
1910: Mechanised wax printing commenced
1964: Merged with a competitor
1970: Company rebranded as Vlisco
1972: Vlisco became part of Gamma Holdings
1973: Launched Superwax brand
1994: Unilever ended involvement in textiles and Vlisco took over distribution of cloth
2005: Launched Aura lustrous fabric, designed for special events
2006: Announced intention to become a fashion brand
2007: First boutique opened, in Benin
2008: New brand values devised: elegance, class, imagination and quality
2010: Actis bought Vlisco for EUR118m (£102m)
2011: The company produced 53.8m metres of fabric with net sales of EUR225m (£194m)