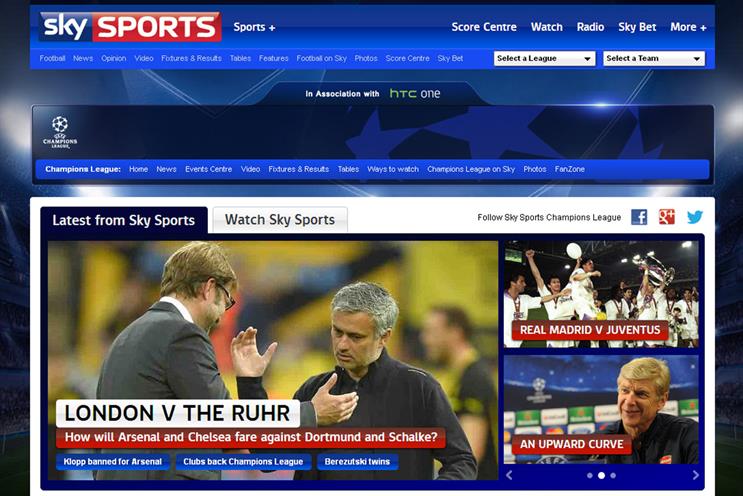 Tonight, Sky Sports will post clips of live UEFA Champions League games, as well as other clips from Sky Sports News, on Twitter and Facebook.
The clips will be bookended by ads that promote Sky Sports and Sky's internet TV service Now TV.
Viewers can watch the clips inline (that is, without being redirected to another webpage) on the social networking sites. Also, Now TV will use Twitter's Promoted Tweets service to spread the clips beyond those who follow Sky Sports on Twitter.
The partnership is a coup for Twitter as it builds its commercial and content proposition, as a prelude to IPO. Viacom International Media Networks became the first UK broadcaster partner of its social video platform Amplify earlier this month.
The tech start-up Grabyo created the platform, allowing Sky Sports to share clips online. Grabyo lets users grab and edit video content in seconds and then upload it onto Twitter and Facebook.
The partnership follows a successful trial when, in September, Sky Sports used the service to post clips of news from the football transfer deadline day.
Grabyo launched earlier this year. Its first project was for Sky Living programme Britain and Ireland's 'Next Top Model', which encouraged viewers to create their own clips by giving them access to Grabyo's interface.
Will Neale, the founder of Grabyo, said: "There's a lot of second-screen stuff out there at the moment, but it's very hard to bring to market and costs broadcasters money.
"But we can offer a platform to social media teams that want to share their content and it can all be funded by sponsors and advertisers. What we're doing is giving [broadcasters] more video inventory."