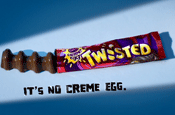 The bar will be filled with the same "goo" as the company's iconic Creme Egg.

The ads show a number of Creme Eggs being melted, before being reformed into the shape of the new bar.

The work was written by Gary Turner and Jamie Marshal and directed by Chris Cairns of Partizan. Media was planned and bought by Starcom.