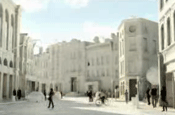 The ad was directed by Nicolai Fugslig, who was behind the Sony Balls and Guiness Tipping point ads.

The campaign, Blank Canvas, shows a town waking up to a world with the colour removed, suggesting a blank canvas.

The creative idea was that everyday lives should not have to follow the same old design rules.

Greg Burke, creative partner for Ford of Europe at Ogilvy Advertising, said: "Nicolai is one of the world's hottest directors so it was a coup for us and our client."