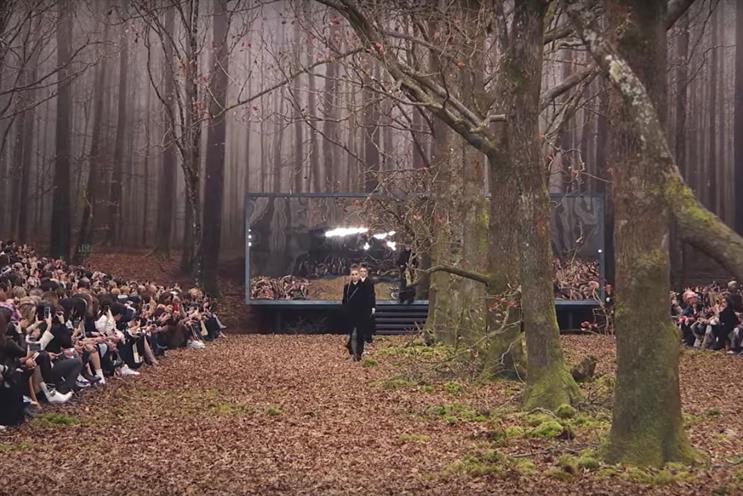 Yet barely 24 hours after fashion critics hailed its beauty and originality, the swift condemnation for the use of cut trees came from the France Nature Environment group which described the show as a "heresy", and accused the luxury brand of cutting down 100-year-old trees to create a "natural" décor and then binning them after the show.
Chanel was quick to respond, with a spokeswoman saying: "These trees are not at all centenary oaks but these are oaks and poplars from a forest in the Perche region of France, purchased after licensed felling. When purchasing the trees, Chanel committed to plant a plot of 100 new small oaks in the forest."
The sight of models walking through an autumnal leaf catwalk, watched by critics perched on wooden paths may have been visually arresting, but could the same impact have been achieved with a more sustainable approach and crucially, has the subsequent discussion had an impact on brand perception for the audience?
Catherine Borowski
Chief executive and head of creative, Produce UK
On first look, we were all completely bowled over by the beauty and the immenseness of the Chanel set, at how vast and brave it looked. As producers, we know how much work that would have taken so we were totally wowed. But as the story developed and we saw the environmental outrage, we started to feel really conflicted. How would we feel if Karl called and asked us to produce that show?
It's unlikely that Chanel consumers buy into the brand for their green credentials, or if Karl would even care what the environmentalists think. But the big reminder for everyone is that it's critical for us to all be deeply thoughtful in every element of our narrative and storytelling, and ensure that this is seen through to the final legacy of each production.
Krupali Cescau
Head of planning, Amplify
Every member of an event team, both agency and client side, has concerns about sustainability and there are some easy steps we can take in the design and build process to reduce by looking at re-usable assets or technology.
Through the use of technology, lighting and screens we can change venues into flexible canvases for multiple purposes such as Red Bull's Future Underground, where we created three very different events over three consecutive evenings using the same infrastructure - from pop with Charlie XCX to grime with Skepta and Section Boyz.
You can hire as opposed to buy as we did for our recent Justin Timberlake gig at the Roundhouse for Spotify, or post event you can donate so the experience lives on.
It's both agencies and clients responsibilities to come up with creative ways to reduce waste and re-use resources – and we all need to get a lot better at it.
Emma de Pfeiffer-Key
Senior account director, TRO
Bringing natural elements to a brand experience provides many creative opportunities; from creating a fully-themed environment to bringing natural colours, smells and textures into a space. Whilst these can be replicated with props and graphics, there's nothing that quite substitutes "bringing the outdoor in" if this is the impact that a brand is looking to create through an experience.
But there are other ways of harnessing the natural beauty of our world – and what better way than to place an experience in the heart of nature itself? In summer 2017 we worked with Volvo to launch the new XC60 with events that demonstrated the product within natural landscapes and settings it could find itself in, including forests, parks and gardens.
The natural world will inevitably continue to be a creative inspiration for years to come and it is essential that we look after the source of that inspiration by creating experiences that are sensitively and sustainably curated.
Selina Donald
Founder, The Bulb
"At the moment sustainability is part of an expression of our times," said Karl Lagerfeld just one year ago following his AW2017 show in Paris. What a stark contrast to this season, where nine beautiful trees were cut down for a 60-minute show. Responsible fashion is not just shouting about your ethical supply chain. If the brand is genuine about sustainability, it should be ingrained in its approach from sourcing through to its shows.
There was a missed opportunity here to make a bold statement about protecting nature through using 3D projection or holographic technology. Not only more visually impactful, it gives creditability to Karl's supposed love of nature.
An alternative approach rather than bringing the outside in, would have been to take the fashionistas out? I'm sure I'm not the only one who would have loved to have seen Anna Wintour and the Kardashians taken out of their comfort zones and put in the middle of a French forest in the name of fashion.