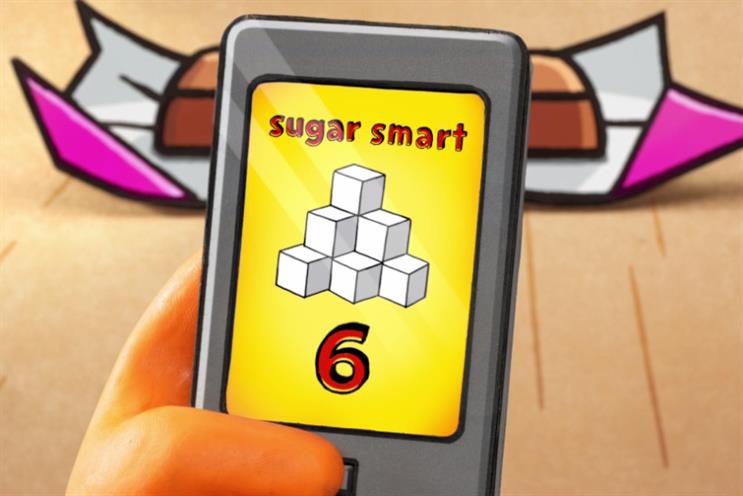 The 'Sugar smart' campaign comes alongside other PHE initiatives like Dry January and an anti-smoking campaign.
It has been allocated the most budget out of the three campaigns at £5m, and aims to remind parents to pick healthier options for their children by revealing the sugar content of everyday foods and drinks.
The campaign will kick off with TV, digital, outdoor and digital content.
Central to the campaign is the mobile app, which lets parents scan product barcodes to reveal the amount of sugar in cubes and grams. This is the first time Public Health England has made an app central to a campaign.
The app can scan up 75,000 products, informed by data from the George Institute for Global Health and Mysupermarket.co.uk. The information is updated every two months.
An ongoing partnership between PHE and MySupermarket.co.uk means shoppers will see "shoutouts" when they add high-sugar products to their online baskets, encouraging them to pick low-sugar alternatives.
Asda, Tesco, Co-operative, Aldi and Morrisons are all supporting the campaign.
Big brands missing from the campaign
The sugar campaign follows PHE's contentious 'sugar tax' report in October, which supports a 10% to 20% on certain products deemed to be high in sugar.
That proposal isn't popular with big brands like Coca-Cola and Pepsi, who have lobbied PHE on the tax.
Unlike last year's campaign, Coca-Cola is missing from the list of big brands involved with the sugar campaign for 2016.
Asked why this might be the case, PHE's marketing director Sheila Mitchell said it made more sense for retailers to come on board with the campaign this year due to the upcoming obesity report, due in 2016.
She said: "Everyone is waiting for the obesity strategy to come out, and that will come out in 2016. It's easier for the retailers to get behind promotional activity for us."
Mitchell pointed out that some FMCG brands were still participating in PHE's digital product vouchers sceme, including Weetabix.
PHE is also handing out 5m Sugar Smart packs to primary school children and their families, while a national roadshow will tour 25 UK locations from 18 January.
Singer and TV presenter Jamelia is supporting the campaign and starring in a series of Sugar Smart films.
Change4Life has created a short film warning parents of the health risks of eating and drinking too much sugar, citing statistics such as that 31% of five-year-olds and 46% of eight-year-olds have had tooth decay.
The average child, the film claims, consumes three times the recommended daily amount of sugar, while a fifth of four- and five-year-olds and a third of 10- and 11-year-olds are overweight or obese.
Obesity costs the NHS around £5.1bn a year, a figure expected to leap to £9.7bn by 2050.