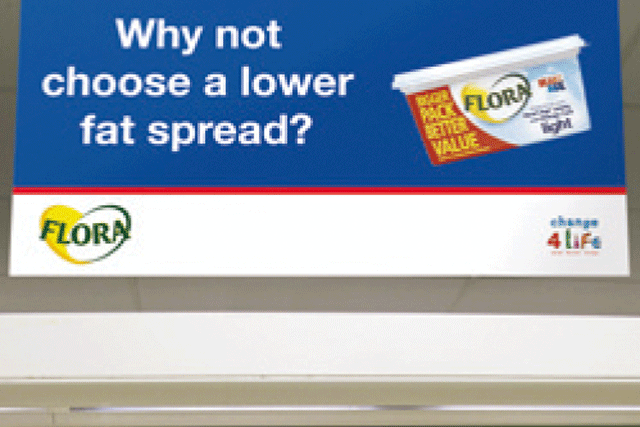 News that the government-backed Change4Life healthy lifestyle campaign has relaxed its retail guidelines to embrace greater corporate involvement (Marketing, 4 May) gave some marketers a glint in their eyes. Could this focus on healthy messaging in-store signal an end to the relentless price promotions that dominated grocery retail during the recession? After all, only so much space can be given to point-of-sale messages before stores become cluttered and confusing.
Shopper marketing experts are quick to quash any such excitement. Kay Staniland, managing director of retail analyst Assosia, believes deals will prevail. 'Consumers are so ensconced in the promotional ethos that just saying "Change4Life" won't make any difference,' she says. 'Health is absolutely not a premium position now.'
In fact, Staniland contends that price promotions are of unparalleled importance, as consumers need to be reassured they are not paying a premium for healthy food.
However, Danielle Pinnington, managing director of shopper behaviour research agency Shoppercentric, is more optimistic that coupling Change4Life branding with a price promotion could pay dividends.
'It would be tough for Change4Life to be purely a health-based promotion, because it doesn't have enough resonance yet for the consumer,' she says. 'It does need a little promotional push, to get people to change.'
Clarity and reassurance
Rice Retail Marketing, which has created Change4Life POS kits for convenience stores, found price more important than initially believed. It introduced wipe-clean boards upon which retailers could flag up daily promotions on fruit and vegetables. 'Consumer feedback showed people are price-conscious and need to know individual prices. They need to be reassured by the price message, even for fresh produce,' says agency founder Stephanie Rice.
Experts argue that consumers are already comfortable with dual promotions, citing Sainsbury's popular 'Feed your family for a fiver' as a good example.
Pinnington's main concern about Change4Life is the complexity of the proposition. 'Five-a-day is simple and clear, but Change4Life comes at all different levels, from exercise to eating. There are many layers before you understand how a product fits in,' she warns.
A spokesman for Change4Life partner Unilever says that, while health messages sit well with its Flora brand, it will not rush in with new activity. 'There is always a balance to be struck,' he says. 'While health-related promotions may appeal to some, price will work more for others. A lot of promotional activity is determined by the retailers.'
Neither Tesco nor Asda, also partners of the campaign, would reveal how they would use the logo in stores, with Tesco saying only that it 'welcomes any changes'.
Despite the potential for stores to look cluttered by extra POS, Asda says the relaxed guidelines will not create an either-or situation. 'We don't need to choose between communicating low prices or health messages, we can do both,' says a spokesman.
However, the deeper issue here, according to David Poole, managing director of through-the-line agency Life Agency, who has been heavily involved in food marketing through work for McDonald's, is brands' inherent resistance to Change4Life.
'Governments and food institutions plump for one system, but big players want their own,' he claims. 'Supermarkets have their own agenda and need to talk about what they are doing for their consumers.
We will not see price and deal messaging swapped on shelf for government-inspired health messaging. It simply doesn't sell.'
THE GOVERNMENT VIEW 'PROMOTE HEALTHY FOODS'
Sian Jarvis, Director-general of communications, Department of Health
We have had a lot of companies wanting to do more with Change4Life, but our previous retail guidelines were very limited. This is the next stage.
It can be broadened out from here to other types of marketing. We're not ruling out on-pack use in future, but we have to progress slowly and cautiously.
Change4Life is a very strong brand with high consumer awareness. Our 200 partners feel very positive about it, so we hope brands and retailers will embrace it.
There's no reason that supermarkets can't have both Change4Life and price POS. We would like to see brands switching their promotions to healthier products to encourage purchase. We want them to incentivise consumers and promote healthy rather than unhealthier foods.
One of the big insights from Asda was that people are incredibly price-conscious; it's our big challenge to recognise that.
WHAT IS AFFECTED?
- Brands in these sectors may carry the branding as long as they satisfy certain nutritional criteria: chips, baked beans, mayonnaise, yellow fats, bread and cereals.
- Brands in these sectors may not: fizzy drinks, low-/no-alcohol drinks, pizza, ready meals, meal deals, pasta sauces, crisps, confectionery, cakes and biscuits.