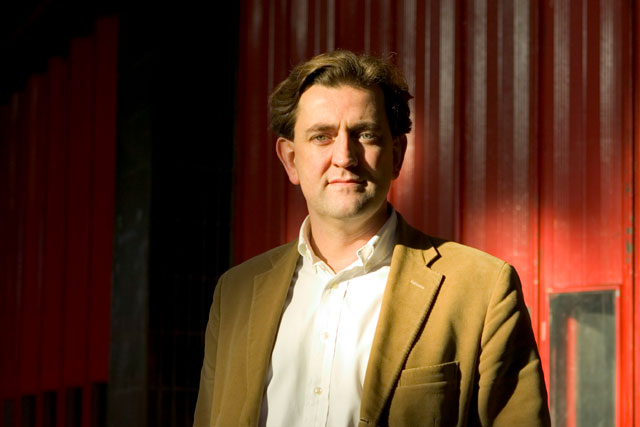 Justin Sampson's appointment as the chief executive of the Broadcasters' Audience Research Board was a fairly well-kept secret. But secrets generally get out in media. When his appointment was confirmed at the end of May, it was universally applauded. After all, his CV reads like a job description for the head of a company that has provided reliable TV audience figures for more than 30 years.
Sampson was the managing director of AGB Nielsen Media Research, which had the contract to deliver Barb's audience estimates from 2006 to 2009. He has worked at a company whose business relies on them (ITV) and, as an ex-managing director of the Radio Advertising Bureau, he has experience managing competing shareholders to deliver industry initiatives.
The vacancy arose after the long-serving chief executive, Bjarne Thelin, announced his intention to leave at the end of 2012. As Barb is part way into testing how it might bring video and TV viewing on computers and mobile devices into its figures, some questioned whether Thelin's departure suggested things were not going well.
Not so, Thelin says. After seeing the organisation through one of its "life cycles", he says it was time for a change. He joined at the beginning of 2004 when, as now, Barb was two years into its contracts. His plan is to do something more "entrepreneurial" and "creative" and dedicate time to his Christian faith.
Sampson will start in the months ahead of Thelin's departure (initially as a consultant and then as chief executive from 1 November) to enable a smooth transition. Sampson praises the work that is being done already and says his task will be to "maintain a good pace of development".
The vast majority of viewing is already captured. Barb figures include time-shifted and video-on-demand viewing through a TV set, up to seven days after a programme is broadcast live. Last year, Britons watched a record amount of TV, but Barb research suggests only an additional 1.2 per cent was viewed away from the TV set.
Yes, Barb needs to expand beyond the TV set (and beyond seven days) and work out how it might make use of server data, but that is precisely what it is doing. And the world is not changing half as quickly as you might think.
1. Barb was created in 1981 as a non-profit joint venture to produce comparable audience estimates for the BBC and the commercial sector for the first time. Today, Barb meters are in 5,100 regionally and demographically representative households. Subscribers, including media agencies, get overnight figures the next day and consolidated data (with catch-up viewing) eight days later.
2. Sampson is joining a team of nine people, supported by representatives from Barb's underwriters (ITV, Channel 4, Channel 5, BSkyB, the BBC and the IPA), with the research carried out by third parties. The current Barb contracts started in 2010 and run until 2015. RSMB handles the methodology and quality control, Ipsos Mori ensures the panel is representative and Kantar's TNS has the contracts for recruiting the panel and installing the meters.
3. The transition to the current panel in 2010 was seen as incredibly smooth. The old and new panels ran concurrently for a time and the industry avoided the upheaval of previous contract changes. The 2002 switchover had been a disaster, and agencies and broadcasters went without audience figures for two weeks.
4. Over the past 30 years, TV has changed drastically. Thelin rejects any suggestion that Barb has not kept up with change, saying behaviour does not change as quickly as technology. Barb began to include viewing of VHS recordings within seven days of broadcast in 1991, and has included personal video recorders since 2006 and video on demand since 2008.
5. In July 2011, Barb started tracking online viewing through PCs, laptops and tablet computers in 100 of its panel homes, though no figures have yet been published. Barb is planning to extend this additional research to a further 1,000 of its panel homes by the end of the year. It is also looking into ways it could measure viewing that happens outside of the seven days after transmission and could start publishing results later this year. The next task will be to see how Barb could incorporate the extensive server data the broadcasters have from the video they serve online.
WHAT IT MEANS FOR ...
ADVERTISERS
- Brands and their agencies want to understand whether the people watching their online video-on-demand ads are the same people viewing the ads on TV. Barb's plans will help them do this. Once the off-set viewing is fully integrated into the main panel, it could throw up some interesting questions. It might even push down prices.
- Most buyers seem to be fairly happy with the direction Barb is heading in. Yes, they would like more information, but it is much more important that the viewing estimates are reliable. Detail about viewing watched outside the seven-day window will help advertisers get additional detail later this year.
BROADCASTERS
- Barb represents a seven-figure investment from the underwriters, which might be one of the reasons they are unwilling to speak about its work on record. But, privately, they say they are happy with Barb's progress with PCs, laptops and tablets so far.
- Barb's viewing estimates are used as a trading currency, so they need to be "gold standard" - and that takes time. "The key thing is to try and make sure Barb is future-proofed," one TV exec says. "It's not easy. Other organisations may do interesting surveys on TV viewing, but Barb has to be as good as it can be. It has to be the best."
- There is time. Although things are changing, around 90 per cent of viewing is still live. Although lots of people talk about data and how it could be a source of revenue in the future, the problem, as with any research, is that the answer might not be the one they want. When we know who online viewers are, they might not be worth the premium.