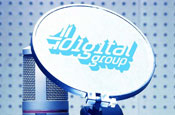 A conference call with Ofcom, which granted 4DG's licence in July 2007, was scheduled for 10am this morning with the 4DG shareholders: Channel 4, BSkyB, Carphone Warehouse, UTV, Bauer Media and UBC.
An announcement will be made internally to Channel 4's staff at 11am today.
The future of several senior Channel 4 executives now remains unclear. Radio 5 Live controller, Bob Shennan, was hired as director of radio last December.
Simon Daglish, former GCap Media national sales director, was hired by the broadcaster at the end of August as the commercial director of the radio venture. He is currently on gardening leave.
A Channel 4 spokesman said an announcement would be made in due course.
4DG had been in talks over the last three months with Ashley Tabor, group chief executive of Global Radio, about merging its planned digital radio multiplex with Digital One. The talks had yet to reach a conclusion.
Last month, Channel 4 insisted its digital radio initiative was on track, although it had scaled back its rollout, with only one of three of its originally planned stations, E4 Radio, confirmed at the time for launch, meaning its speech station, Channel 4 Radio, intended to go up against Five Live, had already been mothballed.
As the broadcaster deals with the pressures of a declining TV ad market and uncertainty over its future public funding, Channel 4 Radio is the latest area of its business to face cutbacks. Last month, the company announced plans to axe 150 jobs to save £100m over this year and in 2009.
Channel 4's withdrawal is a massive blow to digital radio. Only last week, an industry-wide summit was convened aimed at mapping out the future of digital radio in the UK. At the meeting, Global Radio's group chief executive Ashley Tabor and 4DG group chairman Nathalie Schwarz were expected to sign the deal that would merge the operations of the UK's two digital radio multiplexes - Digital One and 4DG.
Read next week's edition of Media Week magazine for full analysis.