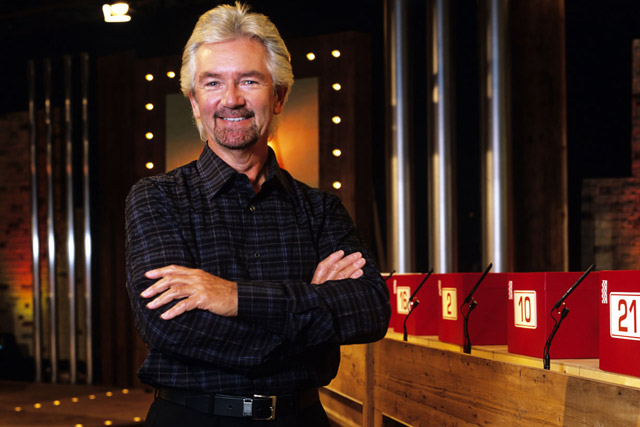 'Deal or No Deal' launched on Channel 4 in the UK in 2005. Since the show began, more than £39 million has been paid out in prize money to more than 2,650 contestants.
To date, seven people have become quarter-millionaires, with five women and two men winning the jackpot of £250,000. Celebrities including Joan Collins, James Corden and Louis Walsh have all played for their chosen charities.
More than 58,000 boxes have been opened during the show's history and the number of "pilgrims" to have entered the studio would fill Wembley Arena twice over.
In an original new twist to the format, players now have the ability to earn an unprecedented element of control in their game.
If contestants can successfully predict' The Banker''s opening offer, they gain a one-time use of the Offer Button, which can be pressed at any time and means 'The Banker' must call at that moment and make them an offer.
Players must able to read the game board and exercise their judgement to foresee the Banker's first offer to use this new twist to their full advantage.
Presenter Edmonds said: "I feel honoured to be part of the finest team in TV. A team that never rests on its laurels and strives tirelessly to make the most entertaining shows possible. I am also truly grateful for the chance to meet so many fascinating people, from every walk of life, and to hopefully be instrumental in making their dreams come true."
Channel 4's head of daytime, David Sayer, said: "'Deal or No Deal' has stood the test of time and still remains an exciting, nail-biting and much-loved programme."
'Deal or No Deal' on Channel 4 is produced by Remarkable Television, an Endemol company. The executive producer is Richard Hague and the series was commissioned by Channel 4's head of daytime David Sayer.
The format was created by Endemol Netherlands in 2001 and has sold to more than 75 countries and has been aired as far afield as the US, Afghanistan, Armenia, China, Nicaragua, Slovenia, New Zealand, Lebanon, Japan and Israel.
This year, 'Deal or No Deal' will be produced in territories including Vietnam, the Philippines, Estonia, Peru, El Salvador, Netherlands, Bulgaria, Italy and Germany.
The UK version has won accolades including two Rose D'Ors, two RTS Programme Awards, a National Television Award, TV Quick Award and a Broadcast Award.