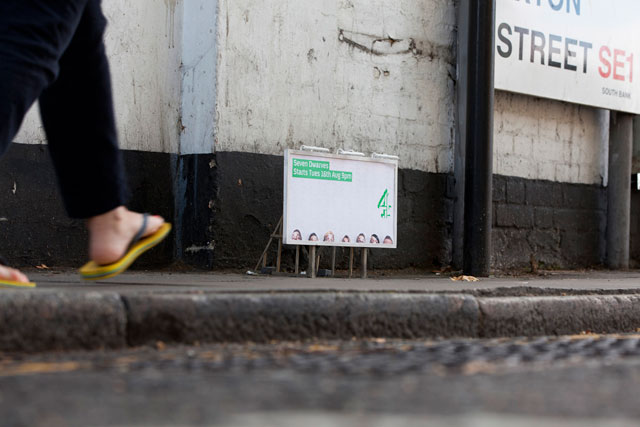 The series starts this evening and follows the lives of seven dwarf actors as they live together and perform in a production of the 'Snow White' pantomime at Woking's New Victoria Theatre.
The 20 mini billboards, designed by Channel 4's in-house creative shop 4Creative, were placed in various locations around London, including Cromwell Road and Piccadilly Circus.
The ad uses Channel 4's characteristic theme – white writing over a coloured box with a corresponding 4 logo. It features the top half of the seven dwarves' heads popping into the frame. Photography was by Gary Salter.
The ad's creative director was Tom Tagholm, the art director was Molly Manners, the business director was Stephen Johnstone and the producers were Ed Webster and Lou Oliver.
The ad campaign to promote the show, planned and bought by OMD UK, also includes national press and magazines, digital outdoor including 48 sheets, digital escalator panels on the London Underground and Transvision screens in rail stations.
The show is also being promoted on C4 with five-second teasers, on air trails and an overlay at C4.com.
'Seven Dwarfs' is an observational documentary series that aims to cut through some of the preconceptions that small people often encounter and documents the ordinary lives led by many of the actors outside pantomime season.