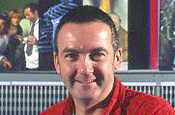 Duncan's "Next on 4" blueprint for its role in public service broadcasting outlines how the broadcaster intends to expand its role from broadcast into new digital media, including digital radio and online.
The move comes ahead of Channel 4's attempt to secure its future with a funding formula from the Government.
Channel 4 chairman Luke Johnson called on the Government to agree increased levels of support for the broadcaster ahead of digital switchover.
Central to this is the creation of a £50 million fund, called the "Four Innovations for the Public" fund, which will provide for collaboration on digital content between Channel 4 and development agencies across the UK.
Duncan also unveiled ambitious programming plans, including a commitment to broadcast more new programmes in peaktime than any other broadcaster and a commitment to increasing spend on news, allowing it to expand into online and radio.
Channel 4 also pushed its credentials as a youth-oriented broadcaster, unveiling plans to adopt a more proactive children's programming strategy, with an initial £10 million funding committed to cross-platform projects for 10 to 15 year-olds.
Duncan said: "This strategic blueprint is a milestone for Channel 4. Channel 4 is an idea that has worked brilliantly in TV for the last 25 years.
"We're very excited by the challenge of demonstrating it can potentially work even more powerfully in new digital media, adding a bold new dimension to our ability to deliver our public purposes."