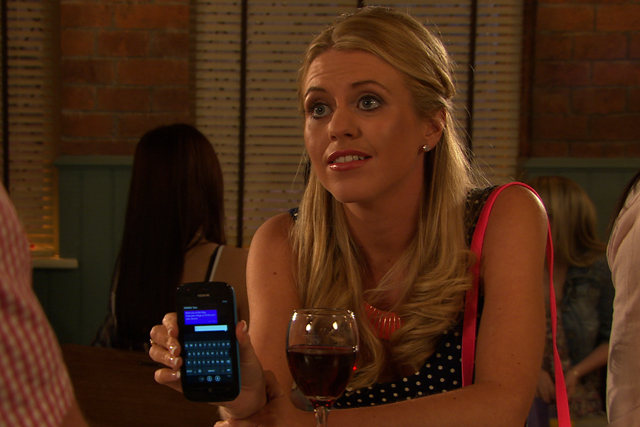 Channel 4 and researcher BDRC Continental have unveiled data suggesting that a product's appearance in a show can boost brand awareness and purchase consideration, which Channel 4 claims demonstrates the "effectiveness of product placement as an advertising solution".
The research comes two years after product placement was officially sanctioned by Ofcom, although the activity has since been adopted by only a handful of brands.
In 2011, New Look became one of the first brands to take advantage of the relaxed rules, with the ad-funded C4 show, 'New Look Style the Nation'.
L'Oréal and Nokia have also signed deals with the broadcaster, with the latter's Lumia phone being used by characters in 'Hollyoaks'.
Nokia claimed the product placement deal led to a 5% increase in viewers agreeing that a Lumia would "fit into their everyday lives" (right, click on box to enlarge).
Tom Stannard, senior campaign manager at Nokia, said the increase represented a "decent" return on investment because of the "personal" nature of smartphone ownership.
He added that the four-month product-placement deal was not intended merely to boost awareness of the Lumia range, but to improve purchase consideration among consumers.
The research also showed a 36% increase among 'Hollyoaks' viewers describing the Lumia as "best for my social networks".
Brand consideration
Meanwhile, Uncle Ben's and Yeo Valley's association with 'Jamie's 15 Minute Meals' on C4 improved brand consideration among viewers, 86% of whom agreed that the product placements fitted well with the series.
Most interestingly, more than half (52%) of viewers said they would buy Yeo Valley the next time they bought yoghurt.
The Yeo Valley research showed that before consumers were exposed to the product placement, 18% agreed strongly that they would trust the brand for frequent use.
This figure increased to 23% after viewers watched the show. Pre-viewing, 17% of consumers deemed it a brand worth its price, while after watching the cookery programme, that proportion grew to 21%.
Uncle Ben's, which was also a sponsor of the Jamie Oliver-fronted show, garnered a robust brand awareness boost from its product placement.
Research found that 62% of viewers attributed the brand to a blanked-image of Oliver using the product, against a norm of 38%.
No bad fit
Rob Ramsey, partnership leader at C4, claims there "isn't intrinsically a bad fit" for any product placement by citing Baileys' tie-up with 'Sex in the City', despite it being viewed as a drink for old people.
However, Ramsey believes Baileys' association with the show contributed to it increasing its popularity among younger consumers.
He adds that there is an untapped opportunity for technology brands to showcase their products in soap operas, citing the example of characters making contactless payments in corner shops.
Stannard believes a successful product placement deal comes when "there is an openness, a willingness and a flexibility from the broadcaster and the production house and the brand to achieve what the brand sets out to achieve […] and is a part of the amplification rather than a driving of the storyline".
However, Stannard does concede there were difficult moments due to the number of interested parties involved in a product-placement deal.
He explained: "Of course with any partnership with three or four parties involved, there were times where there were elements of negotiation, but four months is a long time to get things right and we were happy with what we did in the end."