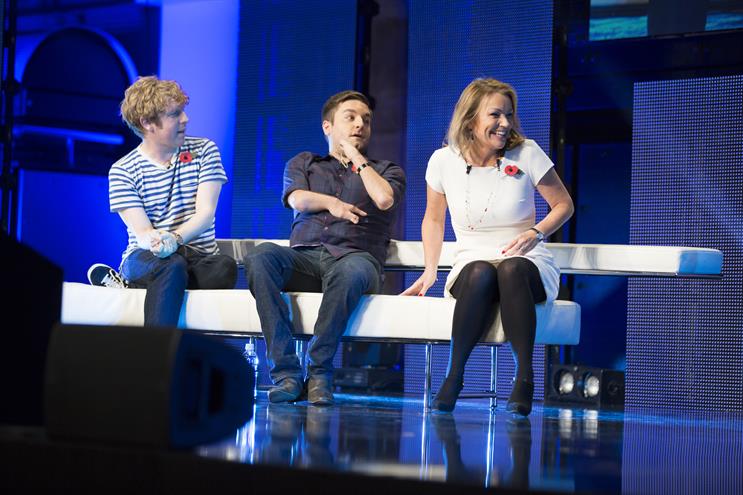 At the annual event for agencies in Old Billingsgate, London, Hunt said that Channel 4 is commissioning its first pre-watershed drama since Brookside ended 12 years ago.
The ABC will be set in a multiracial school in the north of England and will be written by Ayub Khan-Din, who was behind East Is East. Hunt described it as "vibrant, witty and heartwarming".
She also announced two new shows: Indian Summers, a period saga starring Julie Walters, and Cucumber, a Russell T Davies drama about what it's like to be gay in Britain today.
With regards to comedy, Hunt said she is "thrilled" at the number of female writers coming to the channel. Programming will include Morning Has Broken, a spoof breakfast TV show starring Julia Davis; Raised By Wolves, Caitlin Moran's first TV series; and Catastrophe, the story of a relationship by Sharon Horgan and Rob Delaney.
Greg Davies will also return with Man Down. Hunt said there would be "a lot more comedy and a lot more freshness" in what the comedians are bringing.
Hunt added that E4 is "on course to have another record year". She said that the broadcaster is "going to be really doubling down in terms of investment on E4" next year, trying to maximise the channel's potential in the absence of BBC Three.
She said that the broadcaster would continue to take bigger risks with its main channel "doing something which is genuinely innovative and different".
There are plans for a new entertainment show called Time Crashers, which takes celebrities back in time to live through moments of British history.
Hunt said: "The great thing about this year is that two-thirds of our highest-rating shows are new. That gives us the [confidence] to be able to take even more risks to generate even more hits."
Other new programmes and re-commissions scheduled for 2015 on Channel 4 include:
The ABC
The Massage Parlour
No Offence
Coalition
Humans
Catastrophe
Walking The Nile
The Autistic Gardener
The Tribe
At Home with Steph and Dom (w/t)
100 Days of UKIP
Grayson's Greatest Design (w/t)