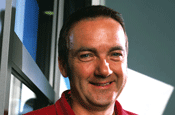 The broadcaster has withdrawn from 4 Digital Group, which would have run the second national commercial digital radio multiplex.

Channel 4 said that pulling out of radio will save up to £10 million in 2009 and contribute towards the £100 million savings it is targeting in response to a 5 per cent downturn in TV advertising revenues.

The closure will result in 15 job losses, but staff will be consulted about possible redeployment within the group.

The decision raises question-marks over the future of several senior staff at the division, including the former GCap sales director Simon Daglish, who was hired as the commercial director of the radio venture in August.

The move will come as a further blow to the DAB platform, which has seen a number of station closures in recent times, including GCap Media's TheJazz. Channel 4 had been in talks with Global Radio about merging the two companies' digital radio offerings, but talks were yet to reach a conclusion.

Andy Duncan, the Channel 4 chief executive, said: "We've taken this decision very reluctantly. We've pursued our radio plans in good faith and continue to believe DAB has a strong future and that we could make a return from radio in the medium term.

"Frustratingly, our plans have been overtaken by a drastic recent downturn in our revenues and we will have to forgo this future profit stream.

"We can no longer afford the short-term investment necessary given that we are having to cut so deeply across all parts of the organisation."