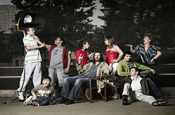 The site has appointed Vallance Carruthers Coleman Priest to produce the idents and work on the rest of its £20 million advertising account after a three-way pitch against two other undisclosed agencies.
The year-long Channel 4 deal, which was negotiated by Mediavest Manchester, begins on June 20.
VCCP will produce a series of over 40 idents for the sponsorship, focusing on the site's car insurance service, which will run across shows including Shameless, Sopranos and ER as well as Channel 4's new offering Brothers and Sisters.
The agency will also create supporting poster and TV ads to reposition the site as a major competitor to other insurance price comparison websites such as confused.com and gocompare.com.