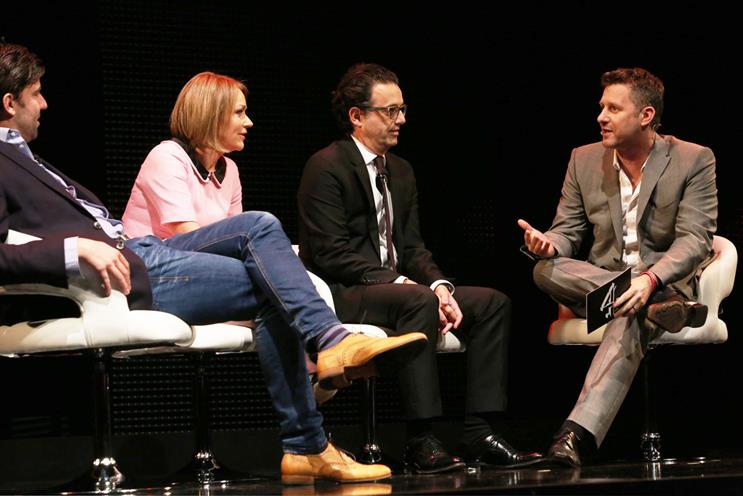 Jay Hunt, chief creative officer at Channel 4, announced a range of new shows for 2014 at the Upfronts, including the return of 'Drugs Live' (on cannabis, rather than Ecstasy this time), the return of historical drama hit 'The Mill', and a new series entitled 'Guy Martin: Speed', where the renowned motorcycle racer, engineer and presenter attempts new speed records.
Other notable highlights for 2014 – that were highlighted on stage – included drama such as Danny Boyle's first television series since his London 2012 success, in the form of new comedy drama, 'Babylon'.
Peter Flannery will follow up his 2008 drama 'Devil's Whore' with 'New Worlds', a drama described as "a gripping story" of love and loss and the human price paid for the freedoms we enjoy today, which spans two continents and the period up to the 'Glorious Revolution' in the 1680s.
There will be a new series from 'Shameless' creator Paul Abbott called 'No Offence', described as a comedy-drama set in a "crumbling Victorian cop shop on the wrong side of Manchester."
Channel 4 also confirmed a number of recommissions for the next year, including the return of the critically acclaimed 'Utopia'. In factual and factual entertainment, returning hits include '24 Hours in A&E', 'Child Genius', 'The Undateables', 'Gogglebox', 'Skint', and 'Food Fight Club' – as well as big new commissions such as 'The Taste' (starring Nigella Lawson) and factual projects such as 'Teens'.
Hunt also confirmed the broadcaster's continued focus on big events, with the return of 'Stand Up 2 Cancer' (which debuted last year as the most successful commercial charity event), the Superbowl, and racing's Grand National in 2014.
The upcoming programming received a broadly positive reception from commercial leaders at the Channel 4 event last week. However, many noted 2013 had been a more difficult hit-and-miss year for the broadcaster, following a strong Paralympic-boosted 2012.
Some shows have failed to attract even the smallest of niches for themselves, with the likes of 'Bed Time Live', 'Masters of Sex' and 'London Irish' all struggling to entice even one million viewers.
There have been popul
ar hits too, with 'Educating Yorkshire' attracting a consolidated average audience of 4.2 million, 'Homeland' (pictured) 3.1 million and 'The Mill' 3.2 million. Others, like gritty urban drama 'Top Boy', are harder to pigeon hole, receiving critical acclaim both here and abroad while regularly struggling to attrcat more than 1 million viewers.
A new platform for Channel 4's short-form content
At the Upfronts, Channel 4 also revealed '4Shorts', a new destination for short-form content on its on-demand platform 4oD.
It promises to offer viewers a range of innovative, diverse and experimental short-form programmes featuring Channel 4 talent that are exclusive to 4oD.
Content will be divided into three core area: Extracts – showcasing some of the most tweeted-about moments from Channel 4 shows soon after broadcast based on Twitter data; Extras – commissioned bonus content of some of Channel 4's most popular shows from 'Made In Chelsea to Educating Yorkshire'; and Originals – newly commissioned content that resonates with a digital audience enabling Channel 4 to innovate and experiment across all genres. Originals will also feature advertiser-funded content specifically for 4oD, for the first time.
The new 4Shorts short-form content will appear alongside flagship Channel 4 shows on its 4oD platform.
Jonathan Lewis, head of digital and partnership innovation at Channel 4, said 4Shorts plays to the broadcaster's heritage of developing engaging, innovative content with its advertising partners.
Further reach among light TV viewers
At ITV's Upfronts last month, the focus had been on ITV as the "most-watched, most-loved and most- talked about" commercial channel in the UK, and how brands can benefit from its scale.
Fru Hazlitt, managing director of commercial at ITV, revealed 600 of the top 604 programmes on commercial TV over the past year had been aired on ITV.
This impressive stat was acknowledged by Channel's commercial director Jonathan Allan last week, but he noted how most of the 600 shows were different episodes of "the same old shows, reaching the same old people" – such as 'Coronation Street', 'Emmerdale', 'The X Factor'.
Allan said BARB data showed how Channel 4 consistently attracted a younger and more upmarket audience than other broadcasters – and how his sales team had an unrivaled reach among hard-to-target "light viewers".

He said Channel 4's ability to attract light viewers enables it to deliver greater reach faster, among the 16- to 34s, with a £1m investment delivering 69.9% cover compared to Sky Sales (62.6%), ITV Sales (49.2%) and Five Sales (47.4%).
This was also said to apply for ABC1s, with a £1m investment in Channel 4 achieving 70.1% cover compared to Sky Sales (54.8%), ITV Sales (54.7%) and Five Sales (48.8%).
Comment on C4 Upfronts 2013 here
Follow @DurraniMix