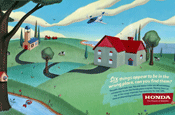 The research, conducted for marketing agency Ogilvy Action, found concluded that brands would be better off promoting their green credentials than signing Kate Moss.
Respondents were quizzed on their lifestyle and product preferences to discover the links that they make between brands and categories.
David Farrow, managing director of Ogilvy Action sports and entertainment, the sponsorship specialist said: "These are important findings, which should help the right brands team up with the right good causes so they can develop more effective sponsorships for the commercial benefit of all involved."
Of the top ten partnerships that would make UK consumers more likely to buy a product or service, eight were social issues or charity brands.
Top of the list were recycling issues, which increases likelihood to buy among consumers by 52 per cent.
Also in the top 10 were charities Red, Greenpeace, the NSPCC and the Red Cross and issues including poverty relief and animal protection.
Top 10 brand partnerships likely to increase consumption:
| | | |
| --- | --- | --- |
| 1 | Recycling issues | 52% |
| 2 | Red | 51% |
| 3 | Environmental issues | 48% |
| 4 | Greenpeace | 44% |
| 5 | Poverty relief | 44% |
| 6 | Animal protection | 43% |
| 7 | NSPCC | 38% |
| 8 | Americas Cup | 35% |
| 9 | Red Cross | 32% |
| 10 | Fashion | 32% |