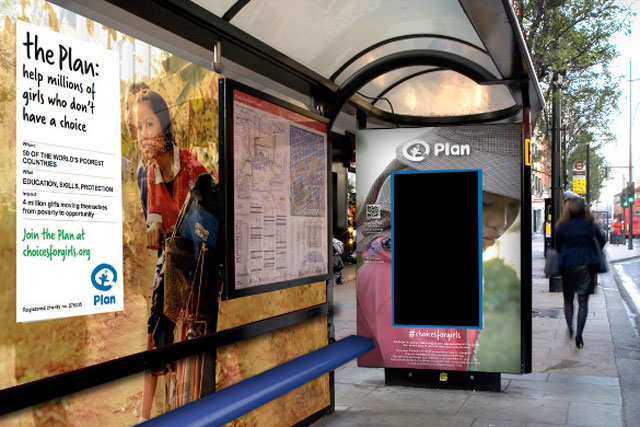 The ad will be placed in a Clear Channel bus shelter outside Selfridges in London on Wednesday (22 February) and will available for consumers to interact with for two weeks.
It has been created with the help of Clear Channel's creative solutions team Create, digital signage company 3D Exposure, and specialist outdoor media company Curb Media.
The technology determines whether a man or a woman is standing in front of the ad, and the messaging clearly states that their face is being scanned.
Women will see a 40-second ad featuring three girls, from the UK, Mali and Thailand. The ad uses the 1990s song, 'You're Not Alone' by Olive.
Men will be shown a plain script that includes the line, "We are choosing to show our advert only to girls to give you a glimpse of what life could be like without choices.".
The ad forms part of a wider campaign created by Shine Communications, running under the charity's messaging, 'Because I Am A girl'. Shine also booked the digital outdoor ad.
It is the first piece of brand-building work from Plan UK and intends to show that millions of girls in developing countries have little or no choices in their lives, especially within education and enforced marriage.
The campaign includes digital, social media and PR activity, with the ad available on video-on-demand channels.
Marie Stanton, chief executive of Plan UK, said: "The facial recognition is a first for the UK and will drive home our 'Choices For Girls' message.
"Although we're not giving men and boys the choice to see the full ad on this occasion – so that they can have a glimpse of what it's like to have basic choices taken away – boys and men play a vital role in helping girls be all that they can be. Men and boys are also invited to join 'The Plan' to give the girls choices."
Neil Chapman, group head of the Create team at Clear Channel, said: "Our new screen is the most advanced yet to be used in out-of-home advertising and the technology was created in conjunction with 3D Exposure and CURB Media. Incorporating sophisticated multi-touch, a wide angle HD camera and 3D depth sensor, it's like a giant iPad crossed with an Xbox Kinect."
In December, Plan UK launched an interactive video app on Facebook, called 'Plan Your Story', to create a personalised story book to drive consumer awareness about the charity and its work.
Follow Loulla-Mae Eleftheriou-Smith on Twitter @LoullaMae_ES