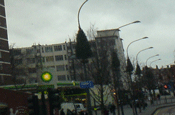 Leonard Cheshire is the largest voluntary sector provider of care and support services for disabled people in the UK.

However, recent carried out by the charity revealed that only one in five people under the age of 35 had heard of Leonard Cheshire; an even smaller number knows what the charity does.

The Leonard Cheshire director of communications, Judith Barnard, said: "We are proposing to re-launch Leonard Cheshire towards the end of the year. As a charity, our remit is to change society's attitudes and responses to disability.

"Leonard Cheshire is considering a number of ways in which we can better promote disability issues, and gain wider public support for the charity and disabled people generally. We exist to serve disabled people around the world and we wish to be in the best possible position to do this."

The charity was founded in 1948 as the Cheshire Foundation Homes for the Sick by Geoffrey Leonard Cheshire, a former Royal Air Force pilot who won the Victoria Cross in the second world war.