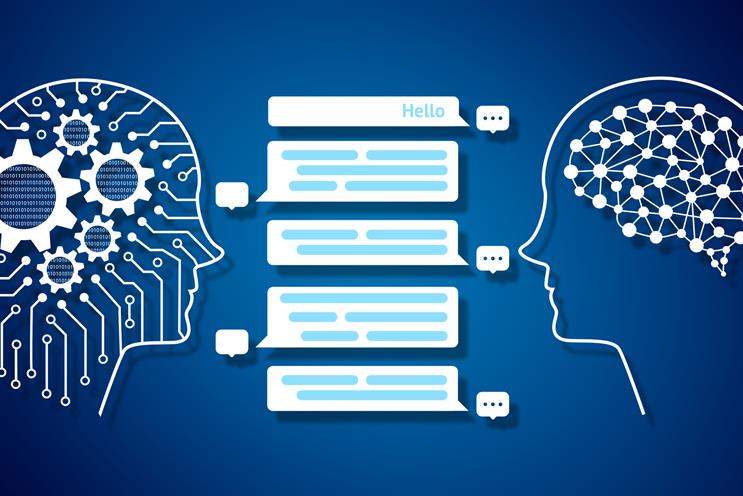 The automated phone tree is dead. Long live the chatbot.
Exasperating touch-tone selections and weary customer service reps are giving way to ever-chipper AI algorithms stocked with preset answers. Ticketmaster is using a chatbot to sell tickets on Facebook, and Tarjimly connects refugees with interpreters. An R/GA copywriter even used a Cindy Gallop-emulating chatbot to help women ask for a raise.
But while tens of thousands of chatbots are in use, creating one is still a complicated, time-consuming process. Many small companies can't afford to hire someone who can code. But a handful of companies are democratizing the procedure and bringing chatbots firmly within the reach of DIY developers.
Sprout Social's Bot Builder debuted this week, which "facilitates the creation of simple, rules-based bots to automate conversational workflow. The builder itself empowers a brand to create, preview and deploy a social chatbot in just minutes," said Patrick Cuttica, senior product marketing manager at Sprout Social.
Bot Builder is a simple interface that creates a bot that interacts with customers through Twitter direct messages. No knowledge of coding is required to set it up—it's about as complicated as sending an email. "We believe it's important that the brand maintain full control of the conversation," Cuttica said. "With rules-based bots, brands enjoy full transparency and full control every step of the way."
Prior to launch, Sprout Social ran a closed beta with Evernote, travel site Monarch, publisher Bloomsbury Books and GVC Mortgage.
For companies that want to get more meta with their chatbot development, there's BotBot, a chatbot that creates chatbots from R/GA San Francisco and startup Reply.ai that debuted last month. BotBot operates off templates designed for particular services, like ordering food, answering questions or tracking a schedule.
"Over the last few years, Reply.ai has been working with big brands to build custom chatbots that provide really unique experiences for their customers, and has been really successful in that front," said Fabricio Teixeira, creative director, UX design, at R/GA San Francisco. "We started to realize another side of the market that remained somewhat unexplored: hundreds of thousands of small businesses that are already using Facebook to connect with their audience, that could really benefit from the automation that bots bring."
Like Ticketmaster's chatbot, BotBot runs on Facebook Messenger, working its way through a series of questions to gather info to populate a new bot. "Think of it as Squarespace templates, but for chatbots," Teixeira said. "We started with Facebook Messenger since it is the platform small businesses are already using to connect to their customer–but Reply.ai's technology allows the same bots to be easily translated to other platforms like SMS, Kik, Twitter and Line."
While the same type of people make both bots and bot building platforms, it's a technical challenge to create an intuitive interface. "How do we translate all the complexity of configuring and deploying a chatbot into a simple and digestible Messenger conversation, considering that some small business owners don't even understand how bots are built?" Teixeira said. The end product needed to be both powerful and educational while not appearing inaccessible or confusing.
"Each answer given by the business owner in the process of customizing their bot activates a series of processes and parameters in the back-end–and we had to make sure the flow still felt simple and intuitive for the end user," Teixeira added.
As more companies begin using both bot creation platforms, R/GA and Sprout Social plan to build out the capabilities, adding features like responses that trigger off certain keywords, natural language processing and increased complexity. Sprout Social is already planning a version 2.0 of Bot Builder that will support multiple conversation pathways.
The march away from live interactions with company employees has been occurring for years. Travel websites, food delivery, Netflix—they all replace tasks that used to require speaking to another human being. But maybe chatbots will bring a little humanity, or a least the appearance of it, back to customer service.