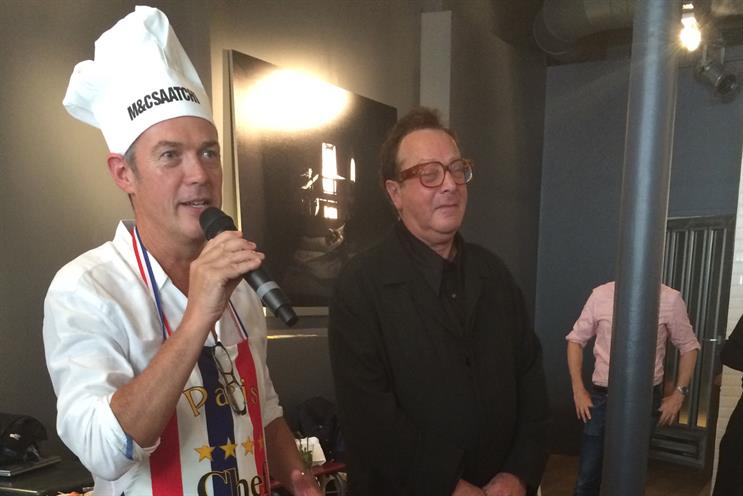 Moray MacLennan has received many plaudits in his career, but this one is certainly up there with the best: he won a MasterChef-style contest during an away day for M&C Saatchi's worldwide team. MacLennan fought off the effect of 9am mojito-drinking and competition from entrants devising recipes that encapsulated the agency's "brutal simplicity of thought" philosophy to emerge victorious. Lord Saatchi presented MacLennan with a French apron in honour of the win. At least MacLennan might now have a back-up option should he decide to leave adland behind.
Hoad knows when to take one for the team
Rainey Kelly Campbell Roalfe/Y&R's vice-chairman, Alison Hoad, was enjoying lunch with clients at The River Cafe last week when, mid-afternoon, the group realised that only they and a wedding party were left. Her table ended up joining in the melee: great when the free Champagne was flowing, less so when asked to toast the couple with a reading. Hoad dug deep for something to say to avoid any embarrassment and eventually opted for the nonsense poem The Owl And The Pussycat. She may be a planner by trade, but she can take a bullet for a client as well as any account man.
A tribute to Pinnington
Six men cycled from Land's End to London last week in memory of David Pinnington, the late head of sports marketing at Omnicom Media Group. The riders included Bart Michels, the chief executive of the WPP-owned Added Value, and Gavin Wheeler, the chief executive of WDMP. The Twitter handle @Ride4Pinners documented the epic three-day ride. Pinnington, who also worked at NTL and was the head of global media and sponsorship integration at Vodafone for six years, passed away a year ago and the team raised £10,000 for The Royal Marsden Cancer Charity.