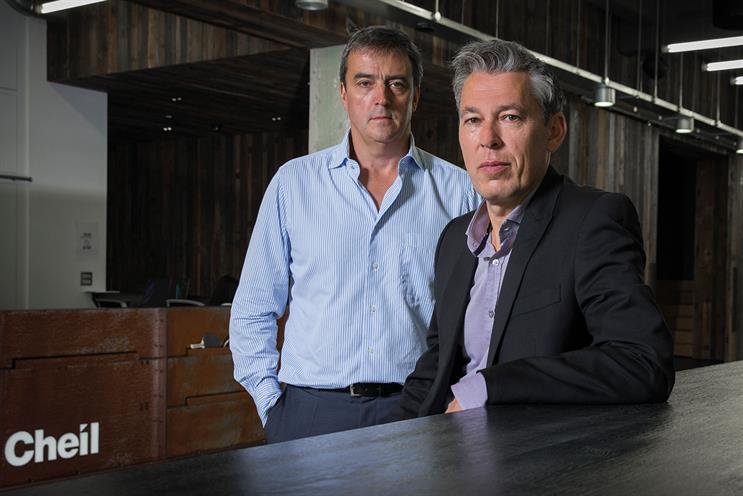 More than a year has passed since Cheil Worldwide London moved into its Southwark office but it looks like the agency has only been there a month. Everything still looks box fresh and the place even smells new.
It is apt that Cheil's office doesn't feel lived in – the agency doesn't seem to have broken in its new model yet, either. Since 2008, Cheil has been on a mission to expand beyond its beginnings as Samsung's in-house shop and develop its own identity as a creative agency.
The progress has been steady. Matt Pye, the chief operating officer at Cheil UK, remembers what it was like when he joined the agency five years ago. "When I started, we were in Chertsey and the people there were lovely but not very good. They couldn't have walked into jobs in a proper London agency," he says. "There was no real planning department and some of the account handlers would go home for lunch and watch Neighbours."
Cheil has come a long way since then but it will be a while before it troubles the top agencies – though it has expanded its client list. "We now have a dozen fee-paying clients that are not Samsung," Pye says. These include Coca-Cola, Crocs and Absolut. "It's great getting footholds but we need bigger wins too."
Despite these new clients, Samsung will still account for 90 per cent of the agency's revenue this years.
But last week, the agency made its biggest statement of intent, hiring Paul Hammersley as the UK chief executive. Hammersley's arrival follows the appointment of Malcolm Poynton as the global chief creative officer and Catherine Davis as the chief growth officer for the UK and Europe.
Hammersley has been in chief executive roles for more than 15 years. His first was the most obvious success, helping Lowe Howard-Spink and Ammirati Puris merge to create Lowe Lintas, Campaign's Agency of the Year in 2000. After a spell as Lowe's North American chief executive, Hammersley took the top job at DDB London in 2004 but moved on 18 months later to start The Red Brick Road, which he left in 2012 after Tesco withdrew its £110 million business.
He spent almost two years as the chief executive of EDC Communications but departed when the UK agencies split, operationally, from their North American sisters.
"I wasn't looking for another big corporate job," Hammersley, who exited EDC in late 2014, says. "But I met Aaron [Lau, the president of international at Cheil Worldwide] for a coffee at Heathrow Airport, had a chat with him and things went from there."
Hammersley's job is to make Cheil UK a cohesive offering. By dint of its extensive relationship with Samsung, the agency has an array of skills – advertising, digital, events and social – that can make it seem undefined.
"When I look at Cheil, I look at what needs to be as much as what there is," Hammersley says. "In the next 100 days, I want a three-year plan. Do we need to buy things? Do we need to make things? One obvious thing I don't see a lot of is media. By that, I mean distribution of media; I don't see a whole lot of skills in that area so it's of interest."
Showing a glimpse of the directness that earned him the nickname Buzz Lightyear, Hammersley adds: "We need to be clearer on what kind of clients we need to focus on in the context of the UK group. Strategy is sacrifice and I don't think it's realistic that we can be everything to everyone just because that's what we do with Samsung."
Part of Hammersley's role will be representing Cheil's 75 per cent interest in BMB. He insists there is a role for separate brands in the UK group, adding: "I have no intention of telling them how to run their business… My task really is to help BMB flourish in the latter stages of the ownership changes."
Iris, in which Cheil has a 51 per cent stake, will continue to report to Michael Kim, the global chief operating officer at Cheil Worldwide, based in South Korea, but Hammersley is looking at ways for Iris and Cheil to complement each other in the UK.
Experienced though Hammersley is, Cheil's success in the UK is not entirely in his hands. A source who worked at the agency says Cheil UK was sometimes frustrated by its Korean headquarters – the strict hierarchy made it difficult to foster a disruptive creative environment – and constant reshuffles at the European management level.
Addressing the first point, Hammersley says his reporting structure is far less stringent than those of other, UK-headquartered groups. On the second point, Pye concedes: "In my five years at Cheil, there have been three Korean heads of Europe. But it's changed."
Indeed, Hammersley is adamant that Cheil is prepared to do whatever it takes to succeed at a global level, particularly in the UK and the US.
"Cheil set out to become more than just 'Samsung's agency' a while ago but it's going through a real step change," he says. "I was at the leaders' conference and 12 of the 25 people there weren't Korean. It shows a real step change in the ambition to become a global agency.
"Twenty years ago, the worldwide chairman of Samsung wanted to make the brand global. He told his employees: 'I want you to change everything except your partners and your children.' That same sentiment was expressed in the meeting we had."