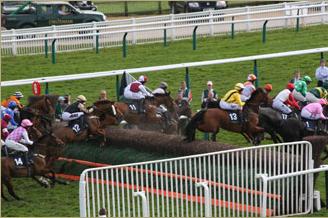 Thomas Pink had previously sponsored the racecourse, but ended the its relationship in 2003. The brand will sponsor the Leading Rider and Trainer Awards at both The Open in November and The Festival in March.
Separately, Neptune Investment Management is to sponsor the Listed Handicap Chase at the Boylesports International, which takes place today.
'This agreement represents our first corporate sponsorship in horse racing and gives us the opportunity to support the sport, which directly or indirectly employs over 90,000 people, during a difficult year,' said Georgina Pardoe, marketing director at Neptune Investment Management.
Peter McNeile, director of sponsorship at Cheltenham Racecourse, confirms the venue is looking for further sponsors for both individual races and premium events.
'Part of racing's attraction as a sponsorship offering is its immense versatility and tremendous reach. No part of mainland Britain is further than 90 minutes travel from a racecourse,' said McNeile.
In March, key figures in the horse-racing industry called for a centralised body to sell bundled sponsorship rights, as a way of helping it to compete with other mainstream UK sports.