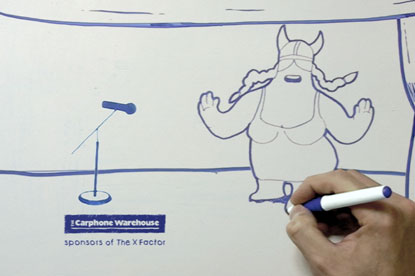 It was one prize in a UK haul of three golds, four silvers and three bronzes in the second year of the Design Lions.

Golds for UK work went to The Partners for "office games" for the Richard House children's hospice charity, Williams Murray Hamm for Jamie Oliver Recipease Food Kits and Pearlfisher for Jamie Oliver's JME food range.

McCann Worldgroup, Hong Kong, took the Grand Prix for Nike's "paper battlefield" – a poster campaign for the Nike basketball league.

In a strike for regional shops, Taxi Studio Bristol won a silver with "Willie's Cacao" for El Tesoro chocolate, and The Chase Creative Consultants Manchester bagged another for the Manchester + Cheshire Dogs Home brochure.
Williams Murray Hamm's work for itself, "seemed like a good idea at the time", took the final UK silver.

Both Chase and The Partners won bronze Lions – for the BBC Wildlife Fund's "never forget a face" and "Mr Singh's Bangras" sausages respectively.

The third UK bronze went to Sony Europe's "Sony@IFA 2008" by Freestate.

The Nike work involved the league basketball players actually printing images of themselves on the posters. Images were overlaid, creating a battle between the characters.

Judges were impressed by the level of interactivity, the creative use of the poster medium and the beauty of the finished work.
More from Cannes Lions 2009