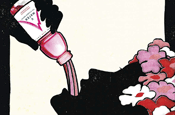 The executions, which feature three of V Water's six variants Glow, Kick and Detox, each carry the silhouette of a person's face.

However, in each poster, the hairstyle and colour scheme of the person is altered to reflect the flavour of the drink.

While Glow is in pink, with flowery hair and the headling "V Gorgeous", Kick's drinker has yellow spiked hair and the heading "V Lively", and Detox's drinker has ?a blue halo and the header "V Pure".

All three executions run with the strapline: "Make it a V good day."




Credits
Project Make it a V good day
Clients Bruno Gruwez, marketing director, PepsiCo; Walter Faulstroh, joint managing director, V Water; Simon Stewart, marketing director, Britvic
Brief Raise awareness and cement the brand's position as the leading vitamin-enhanced water
Creative agency CHI & Partners
Writer Ewan MacMillan
Art directors Charles Inge, Ewan MacMillan
Planner Ben Southgate
Media agency MindShare
Media planners David Seabrook, Fleur Hoiles
Exposure London press, outdoor