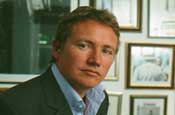 The talks, led by Havas' Fernando Rodes and CHI's Johnny Hornby, have been ongoing for almost a year. CHI's reason for pulling out of the deal have yet to emerge, though sources close to the agency suggest it might be in talks with rival holding companies.
Earlier this year, the agency was in talks with Dentsu.
The agency is seeking a global partner to help it further its business with international clients, such as Toyota and Carphone Warehouse. It is also looking to tie up with a media network as part of plans to go full-service.
More news to follow.