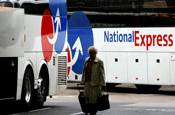 The appointment comes in the same week that National Express won the London-to-Scotland Inner City East Coast rail franchise from GNER in £1.4 billion bid. The operator will run the route from December this year until 2015.
There is widespread speculation that National Express is plotting an integrated coach and rail travel offering, and that CHI is well positioned to win the combined account.
CHI already handles advertising for the National Express Group, and has recently produced a series of ads for its sponsorship of the FA Cup, with the line "making travel simpler".
Hooper Galton currently works on advertising for National Express's coach business. It is unclear how CHI's appointment will affect that relationship.
CHI declined to comment. National Express did not return calls.