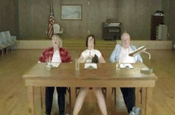 The agency is understood to have made the decision following creative and strategic differences. Chicago Town's owner, The Schwan Food Company, is now in the process of contacting agencies to pitch for the account.

TBWA's work for the brand includes a £4 million TV campaign that ran in 2005 and used the metaphor of two towns, Chicago Town and Humdrum, to suggest that Chicago Town was more exciting than its competitors.

The strapline was: "Chicago Town - a million miles from Humdrum."

Earlier this year, Chicago Town extended its sponsorship of ITV2's American Idol. TBWA developed the idents for the first year of sponsorship, with Digerati, its digital arm, creating a microsite to support the campaign.

Jan McKee, the marketing director at Schwan's Con-sumer Brands, said: "This is a natural time for us to undertake this process. As a business, we are experiencing strong growth."