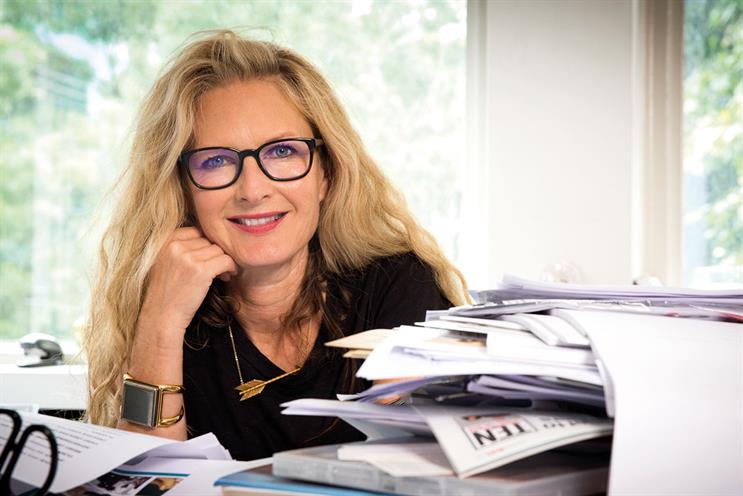 The world is very different from when I started out as a creative. I was part of an all-female team, and remember being turned away from agencies because "we've already got one of you" – meaning a woman – or even two in the creative department. At Gold Greenlees Trott, I was one of only three women the whole time I worked there.
There are 21 women in the creative department here. It's not quite 50/50, but we are getting there. It's important, because women bring a different perspective and you need a creative department to be full of diverse individuals.
In those early years at GGT, I learnt how important the quality of people across the department is. Everyone at GGT was brilliant and highly competitive with each other. Dave Trott was the best thinker. He taught me how to ask the right questions to get to the real problem. And then how to distil your thinking.
The Trott years were brutal. I think I did a career's worth of work in five years. And, yes, practice might not make perfect but, as Jack Nicklaus said, "it does make you luckier". And I felt very lucky to work for Dave, producing his own brand of populist advertising. When Tim Mellors joined and brought in Graham Fink, I learnt a whole new level of craft, honing my art director skills. By the time I left GGT, I felt confident with my ability to judge an idea and self-edit – both invaluable to being a creative director.
At St Luke's, I learnt about collaboration, co-operation and understanding the whole agency, not just the creative department. I also learnt that you can be an incredibly tight, world-beating team, but that it doesn't always last – and you can't beat yourself up about it.
Being able to cope with the ups and downs is very important. Today is not the same as yesterday or tomorrow, and that's a great thing about our business. Success and failure frequently happen within a day – you have an idea, you love it, it gets bought, it gets unbought. You need to be able to cope with that.
One of the things I'm wrestling with at the moment is my view on originality. Of course, you always strive for it in some form. Now, though, there is so much content out there that doing something that has never been done before is not so simple. The traditional rigour of thinking about a piece of work that stops you, makes you think, entertains or informs is still relevant, but now originality might come in the form of how you apply a bit of new technology or just how you tell a story.
I believe the basic principles I learnt early on still stand. What is the real problem you're trying to solve? Often, it isn't the one you've been asked to solve. Who are you talking to and what mode might they be in? Where should we speak to them? Then, if you ask yourself how you can do this in a different way, hopefully you should be well on the way to an idea that will feel fresh and unique.
At GGT, we had media in-house, and creative and media worked seamlessly. Media's separation has, I believe, been detrimental to the creative product. Often, understanding the customer journey really helps stimulate ideas, resulting in sharper creative, since media planning is way more potent when it has been exposed to the raw idea. Our industry sometimes seems set on keeping the best creative talent away from the best media talent. Shame on us.
Serendipity plays a big part in success, and I've had several moments in my career. For example, there was a girl at college who put my book forward for advertising placements, even though I was determined to go into graphic design.
Mellors taught me a lot about how to handle myself. David Abraham taught me how to think about the context of the business and how to be braver and bolder, and to take responsibility. He also told me that it was lonely at the top and that your job is to provide perspective. Trott was probably the biggest influence. If you can find those people across your career and learn from them, you will be set well.
Kate Stanners is the chief creative officer of Saatchi & Saatchi London
---
In a nutshell
What characteristics do you need to be a successful chief creative officer? You need a vision not only for the agency but on each piece of work, so you can guide people. You need to have confidence in decision-making but be open to discussion. You have to be emotionally resilient, cope with setbacks and always be ready to move on to the next thing. You need to be inherently driven and determined. When I was young, I refused to train for running races. But I always wanted to win, so I used to run in the race itself until I was sick.
How will your job change in the next five years and how are you preparing for it? In this job, you are always learning. You need to be constantly curious, always open to change, always listening. I've become more open to different definitions of good and great. That's going to increase.
What do you look for when hiring someone? I always look for people who have created things I wish I had done, but with a different twist on how I would have done it. Personality and demeanour are really important too – just as important, in fact, if not more so.