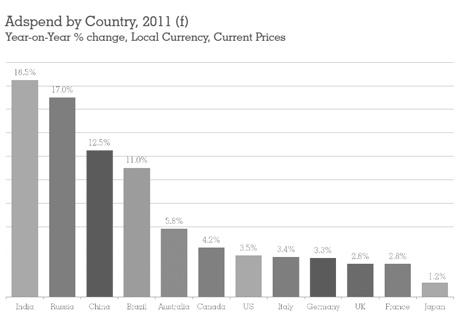 China's advertising spend is forecast to grow 12.5% at current prices in 2011 and 14.5 per cent in 2012. Next year, the total market value will exceed US$27bn in value.
Following the strong performance of its television sector, expected to generated over US$10bn in ad revenue in 2012, China will become the world's third largest advertising economy, behind the US and Japan.
Suzy Young, Warc data editor, said:"The Chinese economy is expected to grow by almost 10% this year and rapidly-rising wages are boosting household consumption. As long as these fundamentals continue to be strong and the threat of inflation is kept at bay, Chinese advertising expenditure will forge ahead."
The US remains the world's largest advertising market, accounting for 43% of main media ad spend in 2011 acrorss the 12 countries covered in Warc's report. Ad spend in the country is expected to grow 3.5% at current prices in 2011 and 4.5% in 2012, marking the best start of any decade since the 1980s.
Japan remains the second largest advertising market behind the US. The country's ad spend is forecast to rise 1.2% in 2011 and 1.5% in 2012, marking a return to positive growth after three years of flat or negative growth. Internet remains the key growth media in Japan with the market expected to account for 12.8% of main media ad spend in 2011, followed by Germany (7.3%), China (currently 7%) and the UK (6.6%).
China's internet sector is forecast to grow 33% in 2011 and 26% in 2012, when 16.7% of ad spend in the country will be online.
India, the smallest market featured in the report, is currently the fastest growing market with ad spend expected to grow 18.5% in 2011 and 19% in 2012. The second fastest growing market in 2011 is forecast to be Russia with 17 per cent, followed by China with 12.5%, Brazil with 11% and Australia with 5.8%.
The report goes on to note that average growth in main media ad spend across the world's 12 major advertising markets featured in the report, will increase 4.6% in 2011 and 5.5% in 2012. The main drivers behind the recovery from the recession of 2009 have been the growth of emerging markets and the rise of internet advertising.
Globally, online advertising is due to grow twice as fast as any other mainstream medium this year with 12.7%, followed by outdoor and television both with 4.8%, cinema with 4.6% and radio with 4.4%. Newspapers and magazines continues on a downward trend with a 0.8% and 0.4% decline in ad spend forecast for this year.