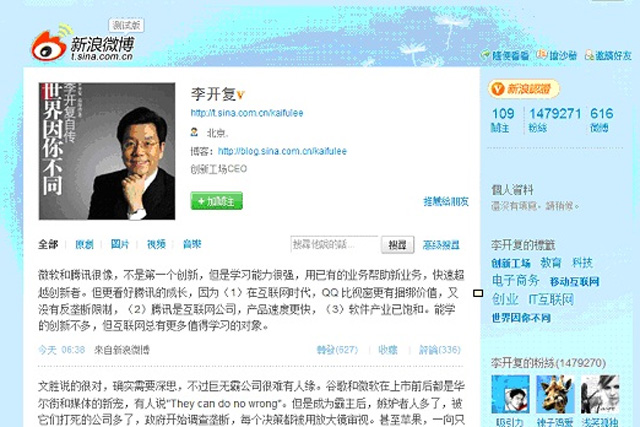 Twitter and other microblogs in China have been a boon for dissidents and critics of the Chinese regime, but the state is striking back and using Sina.com's Twitter clone Weibo to do it.

The change has been forced on the Chinese government much in the way it has elsewhere in the world as Twitter and other services increasingly break news and serve as an alternative to official channels.

Microblogging numbers in China have leapt from eight million in 2009 to an estimated 75 million in 2010, according to market research firm Analysys International. By 2012, it estimates that figure will grow to about 240 million.

The government-sponsored microblogging push already seems to be having some success, with efforts such as 'Safe Beijing', the microblog for the Beijing public security bureau, winning 330,000 followers since its debut.

Possibly no surprise in security-conscious China, but it is proving very popular among security bureaux with more than 500 now operating their own microblogs.

One of last year's most noted news stories, the self-immolation of three Chinese citizens in the Jiangxi Province county of Yihuang who were protesting the forced demolition of their home, first broke and spread on microblogs, forcing mainstream Chinese media to break a government-imposed silence.

The WSJ reports that another big story last year also originated in the same way - by blogger Fang Zhouzi who exposed academic fraud - which resulted in a public outcry and police investigation.