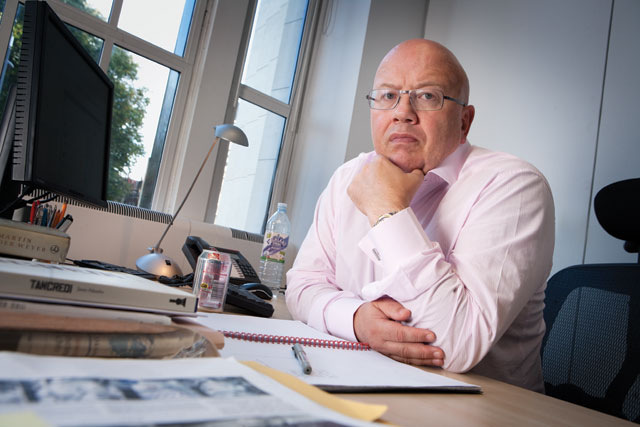 Chris Blackhurst is a battle-hardened, seasoned journalist tasked with charting a new course for The Independent. Still in his first four months, the 51 year old has already overseen the paper's 25th anniversary celebrations, a major redesign and, today, the first birthday of its sibling digest, i.
"It's been quite eventful," he muses, with all the understatement and demeanor of a man who's been around the block a few times. And more change is on its way.

"The website is going to get completely overhauled," he says. "It'll be a new-look website coming very soon, we're talking a matter of weeks, not months."

For many, the online revamp cannot come soon enough. The site Independent.co.uk despite strong growth this year still languishes behind all other newspaper brands featured in the ABC reports, with 14.8m monthly browsers.

Singled out as an example of bad design by one of publishing's leading lights at the AOP Summit last year, critics suggest it does little justice to the strong content it often hosts, despite the brand's relatively young, digitally savvy audience.
According to the National Readership Survey, The Independent's readership has a median age of 43, compared to a median age of 54 for the quality sector as a whole.
Schooled in Fleet Street not Silicon Valley
Accompanying the new site will be the introduction of metered-access for non-UK readers, who will be charged the equivalent of £4.50 per month after 20 free stories. Blackhurst calls the international levy "perfectly reasonable", but does not envisage it spreading to the UK.
"Having a paywall in this country, when you're up against a free BBC and a free Guardian, is probably not advisable," he says pointedly.
Despite digital developments, the overriding impression is that the straight-talking editor has ink, not bytes, running through his veins. He notes his first instinct is "for producing a paper, for pulling stories in a coherent order, in a way that I think people will want them and appreciate them".
A Cambridge law graduate, Blackhurst in part owes his journalism career to The Guardian after answering an ad for "a lawyer who wants to be a journalist" from Euromoney's International Financial Law Review in 1984. It proved a decisive move, and he admits: "I wasn't happy with law, and law wasn't particularly happy with me."

No stranger to The Independent - this is his fourth incarnation - Blackhurst began his Fleet Street career at The Sunday Times in 1990. He's also had two stints at the Daily Express, where "both times they were trying to take it upmarket, both times they lost their bottle".

You won't find him on Facebook or LinkedIn, although he does use Twitter and websites of established brands. "I don't explore the far flung corners of the internet", he adds, somewhat reassuringly.

As for his opinion on the importance of social media on the traditional media landscape, The Indy's new editor is yet to be unconvinced.
"People go on about it being very important. I'm not sure if it is really," he says. "I think it's far more important getting your paper on TV and radio. To my mind that's far better. The more you can do that the better."
The i could hit 400,000 sales
Talking on the eve of the first anniversary of The Indy's 20p offshoot i, the new addition is hailed by Blackhurst as "the young sibling who has proven themselves invaluable to the future of the family firm".
Reliant on The Independent for its editorial content, he admits there were real fears at launch it would simply cannabalise the £1 Indy. One year on, and the editor is confident this has not happened in significant numbers: "We've not lost 180,000 readers [i's circulation]."

He now believes, if they get the distribution model right, the i could even double in size next year: "Is it possible the i could go to 300,000 - 400,000? Well, yes it could. I think that's perfectly feasible."

The significance of i's success for Blackhurst lies in bragging rights in the marketplace: "We now have a paid-for circulation, using the same journalists, that gives a combined circulation that is greater than that of our nearest rival, The Guardian."
This development has not gone unnoticed by media agencies either. Rob Lynam, head of display at WPP's MEC, believes the new combined circulation of the two dailies makes for an attractive proposition for advertisers.
Lynam notes: "Before the launch of i, The Independent sold less than 100,000 actively purchased copies, and therefore had a problem delivering scale. Now the combined actively purchased circulation of 254,542, is almost 10% higher than The Guardian and only 141,729 copies behind The Times.
"i is not yet included in the National Readership Survey, however we think that its readership profile will be younger than The Independent, and help to bring down the media age of newspaper readers as a whole. As i matures and more is known about its readership, it will become increasingly attractive to advertisers."
Print decline reality bites
Despite the ongoing success of i, difficult questions remain about the future prospects of The Independent's reach. From a headline circulation figure of 176,983 last month, just 80,607 were fully paid for in the UK.

Blackhurst is under no illusions and takes care not to overplay his hand. Instead of promising to lift circulations he opts to redefine what success will look like at the newspaper moving forward.

"We're all in a declining market," he begins. "We're all unsure of the internet and the effect it's having. The economy's in recession, possibly, may even be in depression. Where that leaves advertisers we don't know. Above and beyond that we've got rising cost of newsprint. If you package all that together then it's a pretty grim outlook."
His arrival in the editor's seat was instigated by Russian owner Evgeny Lebedev. The pair are said to have a close working relationship, meeting "once or twice a week", and he has been briefed to create a paper that is "read by senior politicians and captains of industry".
Blackhurst says: "He [Lebedev] had done his own little market research and politicians had said to him they weren't reading the paper. If I can get the paper being read about, talked about and high profile, then I would have succeeded."
Uncertain outlook for newspapers
Reflecting on his first few months, the editor praises how well the staff has responded to "the huge state of transition" taking place both within the building and the industry at large: "The Indy is still here and there's still a good spirit."
But does he think the newspaper will be around to celebrate its 50th anniversary? "Yes and no", comes the honest reply. "If the industry was staying the same, yes. But can I see any paper lasting for 25 years? I don't know. I really don't know."
Blackhurst points to the 8,000 copy sales The Guardian has lost following its 20p price hike, and the hundreds of thousands who have apparently left the market since News of the World folded, as ominous bellwethers for the newspaper business.
"People I know always tell me they don't have time to read newspapers," he says with resignation. "I think we all have to all recognise that even though we have lots of devices that apparently have been created to give us more time... the fact is they have the opposite effect.
"My kids don't read any newspapers, that's a really depressing thing, because they are the future."

The editor manages to cheer himself up by recalling Alan Rusbridger's £38m losses at the editorial helm of The Guardian last year.
He notes: "The Guardian is losing money at a colossal rate. When I turn on Media Guardian I just smile, because they're busy telling everyone else how badly they're doing. It's amazing. You think 'how can they write this with a straight face?'

"At some point reality has to kick in there. How can you be on the Scott Trust and not be quizzing the editor of The Guardian about the losses they are making and what they're going to do about them?"
And so, in traditional Fleet Street style, the perilious state of his nearest print rival is enough to provide Blackhurst with hope for the future.
"I can tell you we are not losing anything like the money the Guardian is losing. We are much nearer break even. This is a much tighter ship," he says, "In that context, this is not a bad time to be the editor of The Independent. It's pretty good."
Read Blackhurst's comments on News International here.
Blackhurst on…
Simon Kelner did great, great things with The Independent. Without Simon, the Independent would not be here – no question. He took the paper compact and launched the i, two things if anything that have been the salvation of the paper.

The Independent on Sunday following suit with a redesign has certainly been mooted, I've had discussions, but no decision has been made. They have always pursued different designs.

Closing of grammar schools I think we took away an ability to keep feeding an enormous reservoir of talent. It's amazing how many former grammar school boys and girls went on to greater things. I don't feel the same conveyor belt applies to State comprehensive.

I got roughly the same education at my state grammar, my parents were teachers they couldn't afford to send me to private school, as someone who went to private school. I think that was a huge leg up. When I got to Cambridge I didn't feel uncomfortable.

Alexander Lebedev punch-up I shouted out to my wife 'fuck', at the top of my voice. I was in shock. I'm as shocked as anybody that that happened. I'm told that there had been provocation, that these things might happen more frequently in Russia than they do here. Certainly Alexander became some sort of hero and the guy he hit appeared to be very unpopular.

Personal
Age: 51
Family: Twice married, 5 children (24, 23, 19, 6 and 4)
Lives: Kingston
Media: Spectator, News Statesman, The Economist
"I'm a newspaper, magazine junkie. I literally will take big piles home and will devour them. I love big reads."
Mentors: Stephen Fay (editor on Business Magazine) "Taught me how to write a long feature in an interesting way." Andrew Neil "Worked with him at the Sunday Times which was a very, very rigorous, disciplined and energetic place."
If I wasn't an editor: I'd like to have been a book author
Education: Barrow Grammar school, Cumbria; Trinity Hall, Cambridge (law)


Follow Arif Durrani on Twitter @DurraniMix