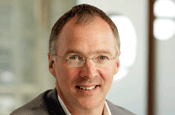 Dobson will take on an as yet unspecified senior global sales position at the BBC's commercial arm.

The move will make Chris Ward, Microsoft UK's commercial director, the company's leading commercial representative.

Dobson, who has been with Microsoft for seven years, is vice-president of Microsoft UK Online Services Group, overseeing content production, sales and marketing of Microsoft's consumer online business in the UK.

Prior to this, he was vice-president of global sales for Microsoft Advertising.

Dobson was poached by Microsoft from ZenithOptimedia in 2001, where he was European business development director.

After joining Microsoft, Dobson headed the development of MSN outside the US.

Earlier this month, Microsoft appointed Chris Ward to head its restructured UK commercial division.

The newly integrated division folds its Advertiser and Publisher Solutions arm and its search division into Microsoft Advertising.