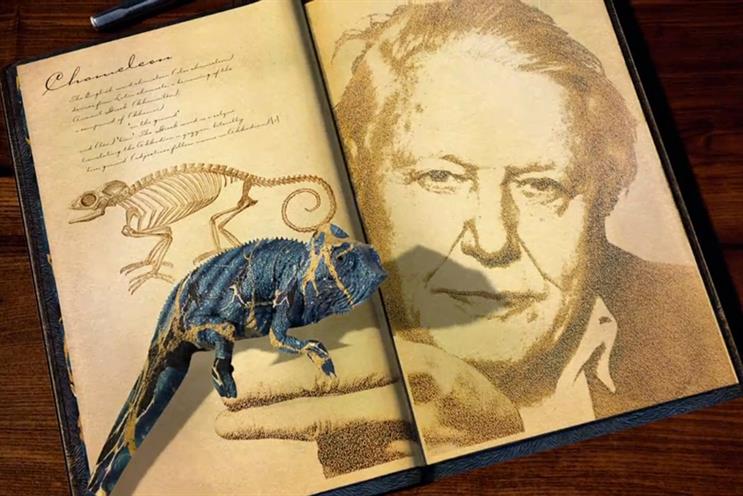 WHAT HE DID Ede (pictured) hand-drew a series of print ads to promote David Attenborough's Natural Curiosities on Eden. He worked with Piccadilly Curtains, a director at Strange Beast, on the project.
How did you create the work? This illustration was created using a labour-intensive multitude of black-inked layers, then composited and coloured in Adobe Photoshop. Finished with a few subtle textures over the entire illustration.
How did you get into illustration? As a child, I worked in a comic shop. Being surrounded by illustration has had a profound effect on my career path. An older friend (Ian Churchill) broke into the comic scene, illustrating X-Men, Cable and other Marvel comics. I remember the moment when I knew I wanted to become an illustrator. While observing Ian drawing a new page for X-Men, he offered me the opportunity to draw a few lines. I gladly obliged.
Where do you find your inspiration? We are inundated with influential imagery everywhere on a day-to-day basis. The pressure of clients wanting their illustration yesterday means I am usually strapped to my desk fumbling through the net for inspiration.
What advice would you give to anyone seeking a career in illustration? Start out with a clearly defined style unique to you and persevere. I reinvented my portfolio four times over an eight-month period before I bagged my first commission. Note: this doesn't mean you should always keep to one style. It just ensures the client is taking less risk knowing what the final product will look like.


Who is your favourite illustrator and why? Currently, I enjoy the brush work of Matthew Woodson, the mural work of I Love Dust and the design direction of La Boca. Gustave Doré's black-and-white depictions of heaven and hell are a favourite from the past.
What are you working on next? A campaign for Zumba stateside, two album covers for De Wolfe and an editorial piece for Emap.
Tell us something unusual about you. I have been given the horrible nickname of "Swine" by a small number of so-called close friends. Heaven knows why, as I'm a genuine, nice chap. Saying that, little did they know until recently that I was actually born and raised in a caravan on a pig farm for the first year of my life.